The Night Visitor
Dear Beginning Rug Hooker: Wanderers come on a crisp winter night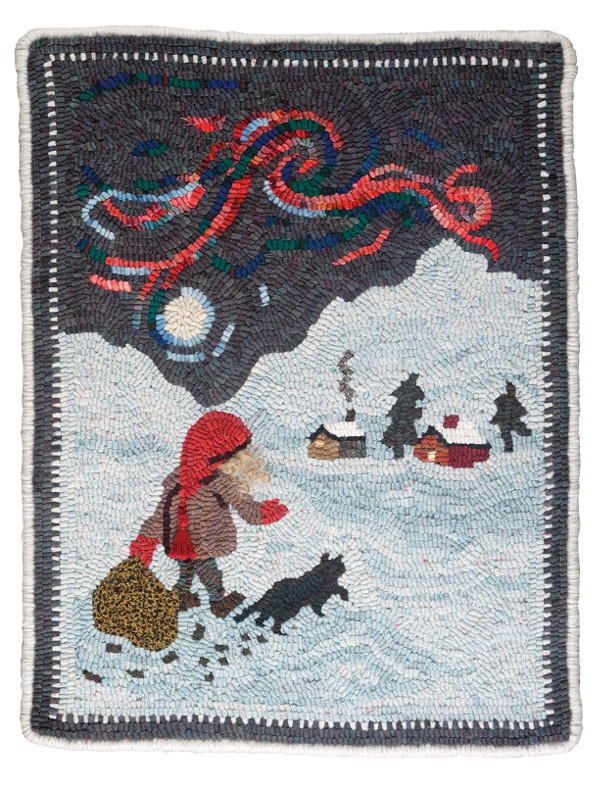 Photography By Impact Xpozures
The Night Visitor, 18" x 24", #8-cut wool on linen. Designed and hooked by Karen Larsen, Elliottsburg, Pennsylvania, 2016.

Elves, fairies, gnomes, trolls, and sprites, which inhabit childhood fables and fairy tales, have always fascinated me. They can be helpful, mischievous, playful, or downright naughty—just like their human counterparts.

I'm also a fan of art with wintery subject matter, so I was excited to do a winter fiber art design. I've chosen a snowy nighttime scene with the Swedish tomte. Traditionally, the tomte is a mischievous domestic sprite who is responsible for the protection and welfare of a farmstead, especially the animals. He is an old man the size of a small child, dressed in raggedy clothes with a red cap, and he is often accompanied by a fox or a cat. Active at night, he is not seen by the human inhabitants of the farm. As long as he is shown respect by the farmer's family and given a bowl of porridge with a pat of butter on Christmas Eve, he will remain at the farm and all will be well.

I've depicted my tomte dragging a large sack. Is he bringing gifts to the people in the distant farm?  Or perhaps he wasn't given his bowl of porridge with a pat of butter at his previous farm, so he's moving on to find another farm. 

This vertical piece is 18" x 24" and is hooked with #8-cut wool cloth on linen foundation. I began with the sky and its colorful northern lights. I was lucky to have won a beautiful piece of dyed wool by Jan Cole of The Wool 'n Gardener at the Woolwrights' hook-in last winter. It is a beautiful, multicolor wool with dark blues, turquoise, and a bit of lavender peeking through here and there. It has a dusty look to it, which allows the bright colors of the northern lights to really shine.

Hooking the northern lights provided a challenge. I hooked, pulled out loops, and rehooked this area several times. Because the overall design is a simple one, I decided to simplify the color and scope of the northern lights, some of which are barely visible against the dark sky. The reds used in this area echo the tomte's hat, mittens, and the barn in the distance and carry the viewer's eyes from motif to motif.

The glimpse of a house or village in the distance has a way of pulling me into a scene. What is going on in the house and the barn in this design? There is a light on in both of the buildings, so the people who live there are still awake and active under the wintery night sky. I only needed to hook a loop or two of yellow wool to create light coming from the window and the door. The suggestion of smoke rising from the chimney also creates a feeling of comfort in the midst of the shivery expanse of snow. The family is secure and, unbeknownst to them, about to receive a night visitor.

Continuing with the childlike feel of this piece, I added some natural sheep curls, given to me by a friend. These still have the wonderful smell and feel of lanolin. I cut some for the tomte's beard and poked them through the linen at the edge of the tomte's hat. Using a needle and thread, I anchored the curls to the back side of the linen. This was just enough detail to suggest the old man tomte, without doing any facial details. Then I gave the tomte a tassel for his cap.

I didn't want much of a border, so a row of beading and two rows of the sky wool seemed just right. I used my favorite finishing technique, cotton clothesline bound with heavy-weight white wool yarn.

After learning about the Purkinje effect (see below), I realized that in reality, the tomte and his colorful cap and mittens would appear in values of grey. I will chalk this discrepancy up to artistic license and the fairytale look of this piece. I am already planning another winter snow rug design for the future, where every element in the design will look as it really would appear under moonlight and the Purkinje effect. This project hooked up fairly quickly. I hooked it during the dog days of summer, so the thought of beautiful cold winter weather—-my favorite weather of the year—was an incentive. 

What color is snow on a cold January night?

Snow under the light of a full moon is pretty magical. Many times over the years, I have left my bed during a full moon and wandered outside, absorbing the quiet, the colors, and the ambiance of a snowy night. Depicting snow on a frigid January night—now, that is the challenge.

When I think of snow at night, I think of it as icy blue, and that is what I have shown in this rug. As I was writing this article, curiosity took hold of me, so I researched to see if my blue snow memory is accurate or a figment of my imagination. I discovered something really interesting, and I want to share it with you. I'll keep it brief; if you're curious, you can look up more information online.

I discovered that there is something called the Purkinje effect, sometimes called the Purkinje shift. This happens to our eyes under low light, when our eyes quit using the cone cells (which see colors) and shift to using the rod cells (which see light and dark and help us see in the dark). 

Although the full moon on snow seems really bright, to our eyes, it isn't. Under this low light, our eyes have to shift from the cone (color) cells to the rod (black and white) cells. The rod cells see light at the blue end of the color spectrum, so the snow looks blue. This validated my blue snow memory.

Now back to dyeing the wool for the snow.  Because I prefer to use wool that isn't one flat, all-over color, I started with almost-white wool with some colored sprinkles in it. Then, using the Wooly Mason Jar Color Wheel Dye System (brainchild of Lucy Richard of New Brunswick, Canada: www.thewoolymasonjar.com), I dyed three values of a very light blue green. I needed several values for shadow areas and to create distance in the design. To the middle value, I added a light sprinkling of onion skins, just enough to make a few off-color splotches here and there.

Before hooking this snow area, I sketched in the areas of shadow and highlight. I wanted the buildings in the distance to be snuggled behind a ridge of snow, adding depth and perspective. I made the snow on the roofs a brighter white so that they would stand out. Suggested hills and a valley stretch out before the tomte and his cat, who are leaving deep footprints as they walk toward the distant farm.

Log on to "From Our Readers"
Have you ever hooked snow? Show us your work! It's easy: visit our website, www.rughookingmagazine.com, scroll down to the bottom bar, click on "From Our Readers," and show us your snow!
 
Karen Larsen started hooking rugs in 2006 while living in Maine. Now living in rural south central Pennsylvania, she has combined her love of rug hooking with over thirty years of experience in graphic design to form her hooked rug pattern business, Crow's Foot Farm Designs, LLC. Her love of nature and birds is evident in many of her rug designs. She is a member of ATHA, co-founder of the Magdalena Rug Hookers of Perry County, Pennsylvania, and its splinter group, Maggie's Meyvns. Her original rug designs can be found on her website, www.crowsfootfarmdesigns.com.

This article is from the January/February 2017 issue. For more information on our issues, check out our issues page.
YOUR RECENTLY VIEWED ARTICLES
Free tutorials, expert tips, exclusive partner offers, and more straight to your inbox!