Matunuck Sailing Ship/Deb Damari-Tull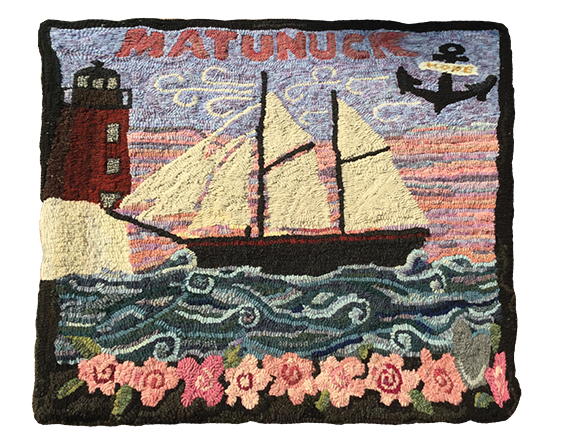 Matunuck Sailing Ship, 32" x 30 1⁄2", off-the-bolt and repurposed wool. Adapted from a commercial pattern by an unknown designer. Other elements designed and the entirety hooked by Deb Damari-Tull, Whitney Point, New York, 2016.

Wikipedia tells us that "Matunuck" is a Native American word meaning "lookout." But to Deb Damari-Tull, who grew up in the place with that name, it means home. Matunuck (pronounced Ma-too-nuk), Rhode Island, includes a picturesque string of beaches abutting the Atlantic Ocean, where great whaling ships, no doubt, once sailed. To Deb, it is the lighthouse, the beach roses, the turbulent ocean, and one special child-discovered rock that say Matunuck to her.

Deb returns to Matunuck as often as she can. On a summer day when her son was five years old, he discovered a heart-shaped rock on the beach and presented it to her. Its likeness in this rug represents a treasure, within a treasure, within another treasure. Her son, whose safety she later worried about when he served in the United States military in Iraq, is the most important treasure memorialized by this rug. The rug began as a gift for him and as a soothing exercise for his mother, the hook and the wool keeping her hands busy. The small rock that is important in the history of her family is, of course, a treasure memorialized in the rug. And the rug, itself, is a treasure for this now-grown daughter of Matunuck. It is a tangible keepsake of the place she calls home. It reminds her of the love between herself and her son. It is a tangible keepsake of the summers that she spent making it while in residence at Matunuck, two weeks each summer over the course of seven years.

During her lifetime of loving old things—old houses; her 1916 wood, coal, and gas stove; the antiques that she collected and later sold—Deb has admired hooked rugs. Through the years, she collected rug foundations, old hooks, and bits of wool. When she finally took a class at a local quilt shop, using a rug hooking kit and a new rug hook, she was surprised by the simple technique of pulling loops. She never finished that kit. And she realized early on that the use of color and the intricacies of perspective can take a lifetime to master. But she plunged forward. Although she has completed a number of projects since she abandoned that first beginner's kit, it is Matunuck Sailing Ship that she considers her first rug.

True to the Native American definition of Matunuck, Deb's first rug looks out to the ocean, imagining a sailing ship of old. The lighthouse that we see in this rug is a vantage point from which people look out—to see and to be seen. And the ocean and the sky? Well, Deb and the rest of us humans cannot resist looking out at them, in all of their power, beauty, and timelessness.

Melinda Russell hooks rugs, writes, and cultivates her garden in Alderson, Greenbrier County, West Virginia.
YOUR RECENTLY VIEWED ARTICLES
Free tutorials, expert tips, exclusive partner offers, and more straight to your inbox!