Things Marine / Sue Creaser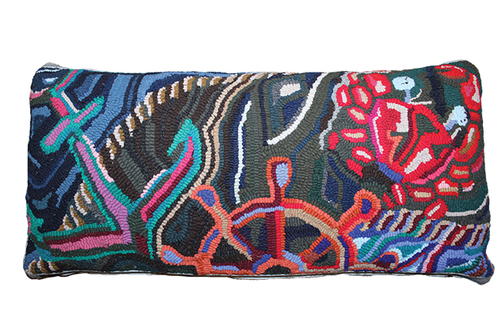 Sue Creaser describes herself as an East Coaster—a Nova Scotia East Coaster—through and through, so it is no surprise that she has always lived with and admired hooked rugs. Her mother collected antique hooked rugs, some of which became gifts for Sue's first home.

Sue, the descendant of Nova Scotia fishermen, feels deeply rooted to the sea. Professionally, she had a career teaching high school biology. She especially enjoyed taking students on rocky shore field trips, where they studied sea animals and shore and sea plants. Maritime images speak to her. Her entire life, and the lives of her forebears, are steeped in salty air images.

Sue is what some call a "process" crafter, one who enjoys experimenting with the how-to's. She has sewn, knitted, built, and painted; it wasn't until recently that she came to rug hooking. When she walked into the Encompassing Designs Rug Hooking Studio in Mahone Bay, Nova Scotia, she actually sighed and thought, this was what she had in mind.

Sue bought a bag of mixed color strips from Encompassing Designs. In the true fashion of a "process" crafter, she simply made her assortment of colors distribute into a beautiful whole. Sue says: "Looking back I'm amazed that approach worked, given that I had no sense how much wool was needed for a particular area!"  But Sue's willingness to just go for it is part of the fun and the satisfaction of rug hooking.

Surely, the very earliest rug hookers in Nova Scotia and Maine and Massachusetts, working in solitude and with occasional visits from neighbors, were plunging ahead. It was their trials and their errors that evolved into our craft. Thankfully, as simple as is the motion of pulling a strip of cloth through a foundation fabric to form a loop, rug hooking experimenters continue to push the boundaries. By experimenting with rug ingredients, rug-making tools, rug-making techniques, color combinations, designs, and rug uses, women and men with Sue Creaser's curious and experimental nature ensure that rug hooking will remain vibrant
and will evolve.

After drawing the design for this chair pillow, Sue employed some of her can-do spirit in making her own light box. She got a large piece of glass and put it up on blocks with a light underneath. Then she laid her paper design on the glass and laid the linen on top of the paper. The light shone through well enough for her to trace her design onto her linen rug backing.

As Sue says, ". . . I am definitely a risk-taker when it comes to creating things. Half the reason I do something is just to see if it works, and in the case of hooking it's gone beyond that. I've found it so satisfying and had such positive feedback from others that I've definitely passed the one-hit wonder stage and don't plan on stopping any time soon!"

Melinda Russell hooks rugs, writes and cultivates her garden in Alderson, Greenbrier County, West Virginia.
 
YOUR RECENTLY VIEWED ARTICLES
Free tutorials, expert tips, exclusive partner offers, and more straight to your inbox!