A Celebration of Punch Needle Hooking
International Punch Needle Rug Hooking Day becomes an annual event under the auspices of Amy Oxford.
Updated October 18, 2023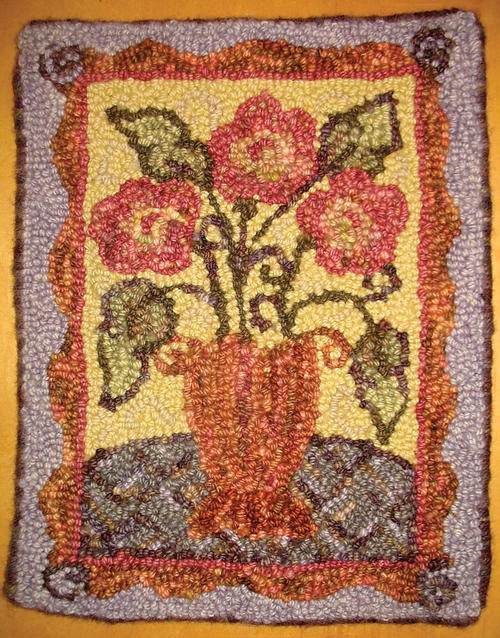 Certified Oxford instructors create teaching samples to use in instructing students. These photos illustrate that the clarity of design depends on the height of the loop. This piece was punched using a #9 Oxford Punch.  

I first met Amy Oxford in the winter of 1985. I was a studio artist, just beginning my pottery business at Frog Hollow Craft Center, in Middlebury, Vermont. I was working two jobs, throwing pots in between waiting tables and working at a yarn store. Amy was teaching one of her first punch needle rug hooking classes in a large classroom next door to my studio. I really, really wanted to be with them, but my primary focus, I had to keep reminding myself, was clay, not fibers, and having hardly two pennies to rub together, all of my extra income was funneled into helping my fledgling ceramics business grow. Someday, I thought to myself, someday, I would learn how to do this thing called punch needle hooking.

In the summer of 1994, my family purchased a small cabin not too far from Bristol, near Amy's studio and home. I remember the excitement I felt when I drove past and thought about the class I didn't take nine years before. I now had enough time and enough pennies to rub together to buy rug-hooking supplies. Amy gave me a quick tutorial, and off I went with monk's cloth, a fabulous color array of yarn, and a few punch needles. I still have that rug. It is pretty terrible. I was so excited to get hooking that I mapped out the pattern as I went, creating a rather lopsided egg-shaped rug.

This article is from the January/February 2011 issue. For more information on our issues, check out our issues page.

In the summer of 2006, I became a certified teacher. For a wonderful week we did fine shading, contoured hooking, hooking with a variety of synthetic fibers, hooking with strips of wool, working with the Oxford Mini Punch Needle, creating pattern designs, and running mock lessons with the other students and teachers. It was a 25-year-old dream come true.

In May of 2009, eleven of Amy's certified teachers met in Middlebury, Vermont, where we decided to hold the first annual International Punch Needle Rug Hooking Day (IPNRHD). The idea was for all the certified teachers to conduct a beginner's class on the same day—February 6, 2010—to promote the craft and to inspire instructors to teach a workshop.

Twenty-five teachers scheduled classes on that day. We hailed from fifteen states and two Canadian provinces. Not surprisingly, Feburary 6 brought with it a huge snowstorm, which blanketed much of the Northeast with over a foot of snow. The blizzard forced many of us to reschedule the event. When the final classes had been taught, 129 students had learned the basics of punch needle rug hooking.

My class was an example of the day. Due to weather, it was rescheduled to April 10, a lovely spring day when I taught five students in my studio on my farm. I have a small collection of vintage hooking tools which I shared with them, and then I presented many of the teaching samples that I created during my weeklong certification program. I demonstrated how versatile the Wells hook is in creating piles of different depths, how to sculpt punch rugs, how to fine shade, and how two rugs with the same motifs but punched to different depths create different qualities in the clarity of the image. Students learned how to trace patterns on a light table, how to construct a frame, how to stretch canvas onto a frame, and the basics of how to punch. We used different threads and fibers, and I introduced the new "mini" punch, which is suitable for worsted weight yarns. Students worked on a heart pattern, and I concentrated on teaching various border edges, which included knit cording, wrapped corging, and a crocheted picot edge. Students were finished with their pieces by 5:00, when we retired to the back porch with glasses of wine.

Today, thanks to Amy's training program, more than 50 teachers in the U.S., Canada, and the U.K. are certified to teach this technique. Her dedication to the craft has inspired others to perfect their techniques and to share their love of punch needle rug hooking with others, leading to a resurgence of the art form.

For a current list of Oxford certified teachers, visit www.amyoxford.com. The next International Punch Needle Rug Hooking Day will be held April 9, 2011. Look for a punch needle rug hooking class in a town near you!

Maddy Fraioli lives in southeastern Ohio and works there in her farm studio producing both pottery and rugs. She is both a certified McGown and Oxford Punch rug hooking instructor. She has been designing and manufacturing rugs since the early 1990s, and her Fioriware Rugs were shown and sold in galleries and museum stores throughout the country.
Additional images:
Simple thread mat and apple tree hooked by Maddy Fraioli.

Teaching sample of 12 loop depths using Wells and Oxford Punch Needles. Hooked by Maddy Fraioli.
One Heart Many Ways
Louise Kulp designed a kit that many Oxford teachers used for the 2010 International Punch Needle Hooked Rug Day. Valentine, sold through her business Eden Village Rugs, is a versatile pattern that lends itself to customization by mixing and matching design elements. Try polka dots, hidden shapes, or a rich solid color peeking through the lacy holes of a frilly heart to makek the mat truly your own—or make it for your valentine.

Polka dots are a fun and easy way to dress up an otherwise plain background. Place a handful of tiny round objects—beads, thumbtacks, grains of rice, etc.—on monk's cloth until you get a pleasing arrangement of dots, and then mark each placement with a marker. Dots are simply three small punches (which equals one yarn loop and two tails) surrounded by background color. A narrow outside border gives the polka dots more room to breathe.

Hidden shapes give monochromatic backgrounds subtle movement and are much more fun to punch than solid areas—they're like a secret in your design. Use a small template of a basic shape like a leaf and trace it randomly all over the background. Outline and fill in those shapes first, then punch the remaining background. In the example shown here, each leaf has a white vein. The ruffle was left off the heart to make more room for the hidden shapes. Can you pick out the leaves in the background?

Negative spaces create interesting elements in your design. Give the ruffle on your heart some lacy holes in a deep, rich color, then use the same color for the background. This simple but sophisticated technique uses light and dark values along with the principle of negative space to add drama. A wide outside border gives the illusion of a large heart against a smaller, solid field.
Valentine, 8" x 8" square table mat or wall hanging. Available as a kit (pattern and hand-dyed wool rug yarn), or as a pattern only (hand drawn on monk's cloth). To order, call 717-823-0206, or e-mail edenvillagerugs@comcast.net.
Amy's Journey
Amy has been making punch needle–style hooked rugs since 1982, when she was trained as a rug hooked by Preston and Cynthia McAdoo of North Bennington, Vermont. She originally worked as a "home rug hooker" for McAdoo Rugs and began teaching the craft in 1985. Around the same time, she opened up a shop and mail order business called Red Clover Rugs, which she originally ran out of her home in Bristol, Vermont. She sold kits, pattners of her own designs, and over 315 different oclors of rug yarn. She also sold the George Wells punch hook, one of the few available punch hooks at the time. With the help of five home rug hookers, she punched and sold a full line of finished rugs and completed many commissioned pieces.

In 1993, Amy moved her business into the same studio at Frog Hollow that I had once occupied, and invented and began to manufacture the Oxford Punch Needle. Considerably more sophisticated than its predecessor, the Wells punch, the Oxford has the added tactile benefit of being made of wood. It is ergonomically designed for speed, ease, and comfort. Two years later, Amy sold the rug and yarn portion of her business and moved her company to Cornwall, Vermont. Amy is licensed by Vermont's Shelburne Museum to make adaptations of the museum's antique hooked rugs. Her adaptations are sold in the museum's gift shop and catalog. She created patterns and kits for the museum and had the wonderful experience of going through the museum's colelction, choosing rugs that she thought might appeal to contemporary rug hookers. She helped catalog the museum's collection of over 400 hooked rugs.

In 2002, Amy wrong Punch Needle Rug Hooking: Techniques and Designs. It is indispensible for understanding the history, tradition, and technique of the cdraft. As the co-chair of the Green Mountain Guild's annual rug show at the Shelburne, she inventoried and documented over 2,400 hooked textiles. These pieces were photographed and published with the artist's statements in four books entitled Hooked Rugs Today, making this contemporary collection available for the rug hooking community to admire long after the shows were dismantled. The series is treasured as a panoramic view of the world of hooking in the late twentieth century.

Over the years Amy has been involved with many craft-related groups and has served as president of the Vermont Crafts Council and vice president of the Green Mountain Rug Hooking Guild. She taught rug hooking for public schools, private groups, guilds, clubs, craft schools, and rug hookign schools across the United States and Canada. In an effort to increase the number of punch needle rug hooking instructors, she designed a teacher's certification program, offered each summer at Fletcher Farm School for the Arts and Crafts in Ludlow, Vermont, where she has been on the faculty since 1984.
Pierson Family Stair Runner, 24' long x 30" wide. Wool rug yarn on monk's cloth. Designed by Amy Oxford and punch by Amy with help from sisters Hamida, Hanka, and Sabaheta Dzankovic. Each of the 16 risers represents an important part of the family's life including birthplaces, childhood horses, schools and colleges, family pets, different homes they have lived in over the years, children, hobbies and important life events such as a wedding, a graduation, and a house-raising party. The runner was made in three sections, took 6 months to design and 6 months to punch. Made with a Craftsman Punch Needle set to #9 and wool rug yarn. (This rug was made in 1995, just before the invention of the Oxford Punch Needle.) Collection of Mitchell and Louisa Pierson, Victor, NY. Photo by Amy Oxford.
YOUR RECENTLY VIEWED ARTICLES
Free tutorials, expert tips, exclusive partner offers, and more straight to your inbox!