Hooking Skies
Swirls and paisleys add drama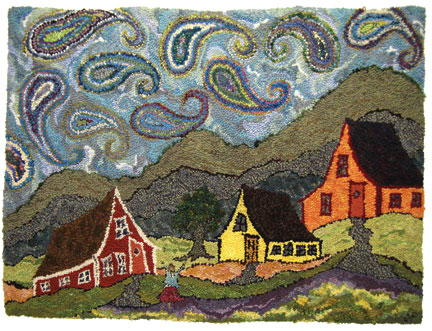 So Small Under a Big Sky, 48" x 58", #6-, #8-, and hand-cut wool cloth and yarn on burlap.  Designed and hooked by Deanne Fitzpatrick, Amherst, Nova Scotia, Canada, 2009.

Nothing makes you realize how very small you are like looking up to the sky. No matter when you look—on a stormy day, a starry night, or a mauve summer evening—you see that the sky is not still. It is ever-changing and moody.
 
Hooking the sky and capturing those moods takes a lot of practice. It also takes a lot of attention. You have to notice what the skies look like, how they change depending on the weather, and how the time of day alters their appearance.
 
Take Time for Observation

Before you hook a sky, go outside and look up. You'll see many different types of clouds: Cumulus clouds are big, heaping, fluffy clouds. Stratus clouds are thinly layered clouds. Cirrus clouds are like big curls of hair. Nimbus clouds are heavier-looking rain clouds. What kind of cloud best suits the day you want to depict? What time of day are you trying to capture? These are simple but important considerations.

This article is from the June/July/August 2011 issue. For more information on our issues, check out our issues page.
YOUR RECENTLY VIEWED ARTICLES
Free tutorials, expert tips, exclusive partner offers, and more straight to your inbox!