Seasons at the Parris House
Inspiration for design
By:
Elizabeth Miller/Parris House Wool Works
Updated August 19, 2021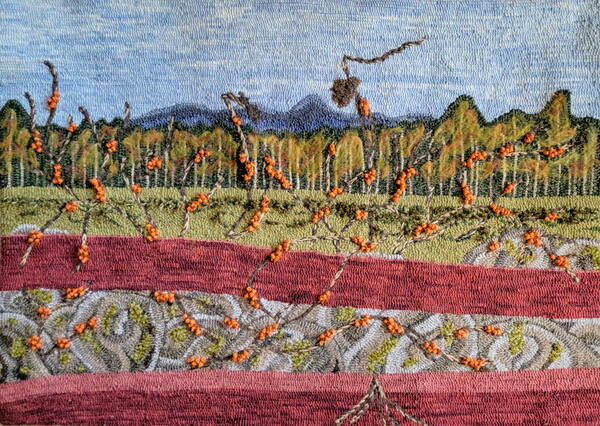 Seasons at the Parris House
Maintaining a small homestead like ours requires continual observation of the environment that I confess I did not practice at this level in my previous urban/suburban life. In those days, I understood the basic large-scale changes in the seasons, but I did not catch the minute details. I now watch for the arrival and blooming of specific plants to know when I can stop the early spring feeding of my bees. I pay attention to predator birth and relative hibernation cycles to know when I must be extra vigilant in protecting our chicken flock. I know without a doubt that the old-time New England admonition not to plant your garden until after the last full moon in May is spot-on, just as I can read the signs in the fall that it's time to start putting the garden to bed. It's because I am, to borrow a term from the Buddhist master Thich Nhat Hanh, "looking deeply." This habit of looking deeply at my environment has strongly influenced my rug designs. One of the scenes I observe with the most interest is my neighbor's field next door to our home, the Parris House.
YOUR RECENTLY VIEWED ARTICLES
Free tutorials, expert tips, exclusive partner offers, and more straight to your inbox!