Exclusive Excerpt from Celebration 29, Part 2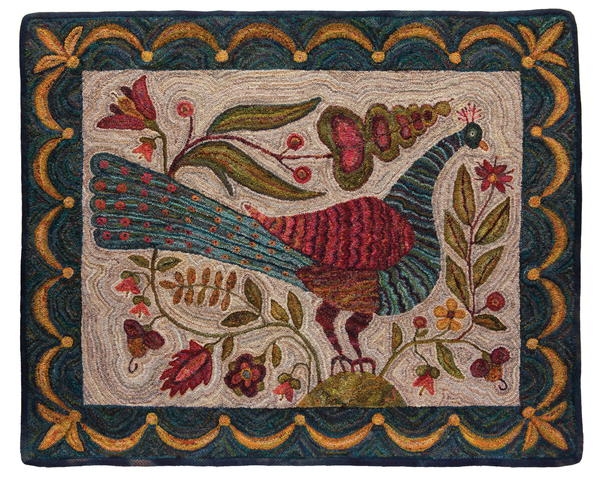 Exclusive Excerpt from Celebration 29, Part 2

Pennsylvania Peacock, 46 1/2" x 38 1/2", #6-cut hand-dyed, as-is, and recycled wool on linen. Designed by Janice Johnson and hooked by Jill Hicks, Valparaiso, Indiana, 2018. WALT BUKVA

I signed up for a retreat with Janice Johnson of Wooly Woolens at Sauder Village and needed a pattern to work on. I looked through her patterns and found Pennsylvania Peacock, and it immediately spoke to me. Janice told me she found the design in an antique book and thought it would work well in a hooked rug—I agreed. Although it is a primitive design, it feels timeless. I like primitive patterns, but I also like to show details. Pennsylvania Peacock is a primitive pattern where one would probably use a #8 cut or above. I, however, chose to use a #6 cut, so I could show more detail and use more wools and colors.

I chose mostly textured wools as I find them to be more interesting visually when hooked and easier to blend together. I also mixed in worms left over from other projects—probably a total of about 80 different wools—that were a combination of off the bolt, hand-dyed, and recycled.

Instead of using many dull colors as is common in antique rugs, I wanted to add a little brightness. So I adjusted my color choices accordingly to make the peacock a little more colorful, giving it my vision of its personality. I didn't dye wool myself for this piece, but some of the wools used were hand-dyed.

The section of the piece that was most challenging for me was the border that I added. When I ordered the pattern from Janice, I asked if she could add five extra inches of linen on all four sides, so I would have the ability to add a border at some point. I felt i wanted to frame in the design but wasn't sure how to do it. During the whole time that I was hookign the pattern, I was thinking about what design I could use on the border. Since there was a lot going on in the actual pattern, I felt it had to be somewhat simple. I played around with many different ideas, but this was the one I felt suited the piece the best. Next, I had to figure out the size and spacing of the crescent shapes and have it work out both horizontally and vertically to visually appear to be the same size. I cut out the shapes in different sizes and played around with them on the pattern to know what would work best. Then I pinned each final shape to the linen and outlined each piece to make the design. I am happy with the end result. I feel like it frames the peacock design with an elegant touch and adds appeal to the entire rug.
YOUR RECENTLY VIEWED ARTICLES
Free tutorials, expert tips, exclusive partner offers, and more straight to your inbox!