Let's Celebrate!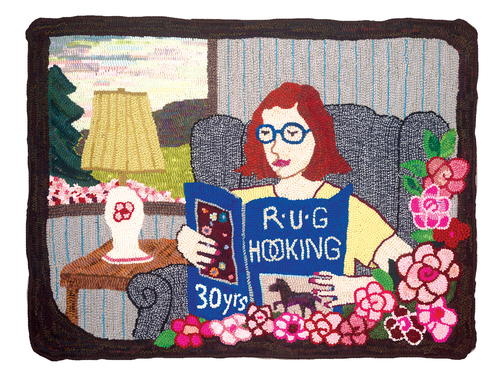 The Avid Reader, 36" x 27", #6- to 8-cut wool on linen. Designed by Linda Pietz and hooked by Debra Smith, Landisburg, Pennsylvania, 2017.

Can you believe it? RHM is entering its 30th year of publication!

Oh so many years ago, rug hookers read a wonderful bi-monthly newsletter called Rug Hookers News and Views. Joan Moshimer wrote and produced this long-running love letter to rug hookers—it was full of her tips and techniques, dye recipes, and free patterns. When Joan was ready to retire, she collaborated with a Pennsylvania publishing house to transition her newsletter into a magazine. Thus began Rug Hooking magazine, published under the auspices of Stackpole Books and Magazines. RHM had found a happy and productive home for many, many years.

We grew and prospered, communicating with rug hookers around the world. Many issues and many years later, in 2016, RHM once again made a big change and became a part of the Prime Publishing family.

Over the past 30 years, the world has become ever more connected through social media and the Internet. As foresighted as she was, I doubt Joan could have predicted how communication would change in the next several decades. All those changes demand a new approach to how RHM relates to our readers. Happily, we find ourselves in exactly the right place, with the like-minded, craft-loving people at Prime Publishing, who are experts at all things digital.

So here we are, 30 years on—three decades of lovely rugs and fabulous designers, of inspiring teachers and enthusiastic rug hookers, of wool crafters and intrepid artists.
In this anniversary year, we will reflect on our past, celebrate our present, and anticipate our future. Each issue of this anniversary year, beginning with this issue, we will celebrate our longevity by offering you, our readers, a special pattern celebrating our 30 years by one of our esteemed designers or teachers.

We will look backwards to honor our past, look forward to trends and new work, and as always, show you what is happening right now in the rug hooking world. Come along for the ride! It's time to celebrate RHM past, present, and future!
YOUR RECENTLY VIEWED ARTICLES
Free tutorials, expert tips, exclusive partner offers, and more straight to your inbox!