Sauder Village – A Memorable Get Away!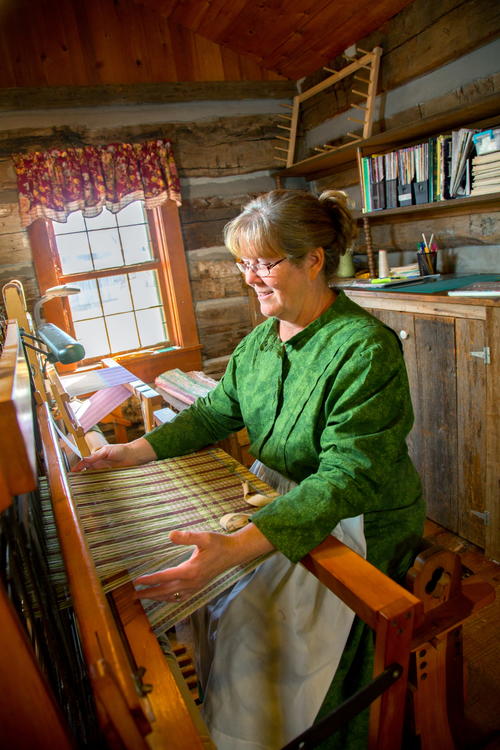 Sauder Village Weaver
Again this year from August 14 -19, rug hookers from across the country will gather for Rug Hooking Week at Sauder Village in Archbold, OH. With an amazing display of hooked rugs, workshops, lectures, vendors and many special exhibits – this nationally-recognized event is a spectacular celebration of this traditional craft.
 
But wait! Sauder Village has so much to offer! Sauder Village guests are invited to explore their creativity while watching skilled craftsmen at work, experience Ohio's rich history, try hands-on activities, and enjoy delicious food and welcoming hospitality!
 
Recognized as Ohio's largest living history destination, Sauder Village provides guests with experiences rich in history, hospitality, creativity and fun! Throughout the Historic Village, guests can explore Ohio history while visiting with costumed guides and working craftsmen in more than 40 historic homes and shops. Favorite stops include the District 16 School, Barbershop, Grist Mill, Natives and Newcomers, Pioneer Settlement and the 1920s Grime Home! Guests also enjoy visiting historic gardens, meeting farm animals and taking a train or buggy ride!
 
Guests also marvel at the talented artisans and craftsmen blending skill and creativity in glass, metal, fiber, wood and clay. For nearly 40 years, Sauder Village craftsmen have been demonstrating and handcrafting items from traditional trades like spinning, weaving, tinsmithing and broom making to continuing trades like pottery, glassblowing and blacksmithing. Sauder Village is proud to be home to artisans and craftsmen who not only follow the traditions of their respective crafts, but are developing revolutionary new techniques and applications as well. Each one of the artists carries on a skill that was vital to everyday life at the time the Great Black Swamp was settled.

While visiting Sauder Village guests also enjoy visiting the Village Gift Shop, Lauber's General Store and Threads of Tradition Quilt Shop – one of the largest quilt shops in the region. Also in the complex is the Sauder Furniture Store and Outlet featuring ready-to-assemble furniture and home accessories. 

In addition to offering guests many unique opportunities in the historic village, Sauder Village is also recognized for outstanding hospitality. The Sauder Village complex includes many opportunities for guests to dine, shop, and stay overnight. The Barn Restaurant offers a unique place to enjoy a home-style meal. Built in about 1861 on a farm just a few miles from Sauder Village, guests enjoy dining under the hand-hewn timbers of this historic barn. Guests also enjoy finding delicious pies, cookies and sweet rolls to take home from the Doughbox Bakery. Overnight accommodations are available at the Sauder Heritage Inn or the Sauder Village Campground. Guests feel right at home in the 98 room Heritage Inn complete with indoor pool and hot tub, game and exercise room – all adjacent to the "Great Oak Tree". Throughout the Inn, the beautiful fireplace, atriums with live plants, comfortable furniture, natural wood timbers and hand-forged lamps and railings set the casual, friendly tone. The 87-site Campground is a great place to relax and enjoy time together while fishing, sharing stories around the campfire, riding bikes, playing at the Splash Pad, walking around "Little Lake Erie" or enjoying the amenities at the Heritage Inn.

Take time to explore your creativity, connect with your past and celebrate rug hooking at Sauder Village! For more information phone 1-800-590-9755, visit www.saudervillage.org, like Sauder Village on Facebook or follow us on Twitter and Instagram.
 
Sauder Village Photos
Pioneer settlement at Sauder Village

The Sauder Village General Store

Heritage Inn at Sauder Village
YOUR RECENTLY VIEWED ARTICLES
Free tutorials, expert tips, exclusive partner offers, and more straight to your inbox!