Sauder Village Rug Hooking Week 2017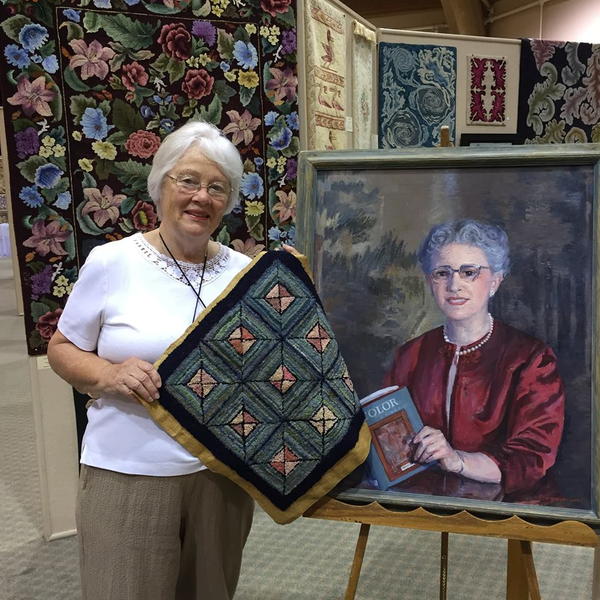 Sauder Village Rug Hooking Week 2017
Calling all hooking aficionados and designers! Rug Hooking week is just around the corner and Sauder Village is putting the finishing touches on a celebration dedicated to the unique art of rug hooking. This annual festivity has featured more than 200 original pieces displayed by carefully selected vendors from across the United States and Canada in addition to a beautiful gallery-style exhibit featuring anywhere from 450 to over 700 pieces a year. Come one, come all to Sauder Village Rug Hooking Week 2017 on August 14-19 in Archbold, Ohio!

Sauder Village

What is Sauder Village, you ask? At its core, Sauder Village is a living-history village founded by Erie Sauder in 1976. Located in Northwest Ohio, Erie's vision was to illustrate the innovation and craftsmanship of Ohio's ancestors along with the rich history and values that shaped their community. Perhaps most importantly, Erie Sauder wanted to inspire and motivate visitors to leave behind their own legacy.

Today, the village is 235 acres of living history from authentic demonstrations, real artisans, buildings, and interactive programs that engage children and adults alike. Take a walk through time and explore Northwest Ohio during the early 1800s to the 1920s, or enjoy an afternoon buggy ride through the Settlement Area. With plenty of places to eat, shop, and explore, Sauder Village provides a unique family-friendly experience that makes history fun and accessible for people of all ages. Guests are even treated to additional amenities such as a waterfall pool area and a gorgeous Great Oak Tree replica making Sauder Village the perfect quaint destination for a quiet getaway.

Erie Sauder's vision wouldn't be complete without its array of educational classes intended to preserve the fine arts of knitting, quilting, rug hooking, sewing, and much more. Sauder Village boasts highly esteemed instructors committed to cultivating future generations of artists and creators. Additionally, Sauder Village hosts many special events such as Rug Hooking Week, an event that has attracted thousands of rug hooking enthusiasts, artists, and visitors year after year.

Rug Hooking Week 2017

Rug Hooking Week 2017 has been officially declared the "Year of the Man" in honor of historic and present-day male rug hooking artists and designers, as well collectors and dealers. Prepare to be surprised and inspired by unexpected male contributions to the rug hooking craft featuring distinguished male instructors, vendors, and exhibits! While this year may be specifically recognizing men and their accomplishments, expect to see plenty of gifted female artists as well. After all, Rug Hooking Week is devoted to providing artists with the opportunity to share their work, network, and learn!

Sauder Village will also be offering over 30 classes taught by notable instructors from the United States and Canada. If you're a novice, not to worry. Classes will cover a variety of subjects, techniques, and skill levels. Best of all, enjoy the chance to network with a community of rug hooking enthusiasts from around the world and peruse the vendors' wide selection of rug hooking supplies, materials, and other treasures.

Discover multiple exhibits from the Main Exhibit to the Feature and Special Exhibits. Everyone is allowed to submit their rug to the Main Exhibit, while the Special Exhibit pays tribute to artists that have shown exceptional innovation in depicting historic or modern themes, concepts, and ideas in their rug hooking. The Feature Exhibit will commemorate talented artists from the past and present, offering visitors the opportunity to study and learn about individual techniques up close and personal.

The exclusive Celebration Exhibit will be featuring award-winning rugs from Rug Hooking Magazine's Celebration of Hand-Hooked Rugs 27 completion. As one of Rug Hooking Week's main exhibits, all finalists and honorable mentions are asked to display their rugs in the Celebration Exhibit, a collection of the best rugs in the country and abroad. Rug hooking enthusiasts everywhere are invited to see this exhibit and pick up a copy of the latest Celebration exclusively at Sauder Village Rug Hooking Week 2017.

Whether you stay a day or the whole time, Rug Hooking Week is filled with fun activities for everyone, and you can always explore all the great year-round exhibits Sauder Village has to offer!

To register or to find more information, visit the official Rug Hooking week website.



YOUR RECENTLY VIEWED ARTICLES
Free tutorials, expert tips, exclusive partner offers, and more straight to your inbox!