March/April/May 2017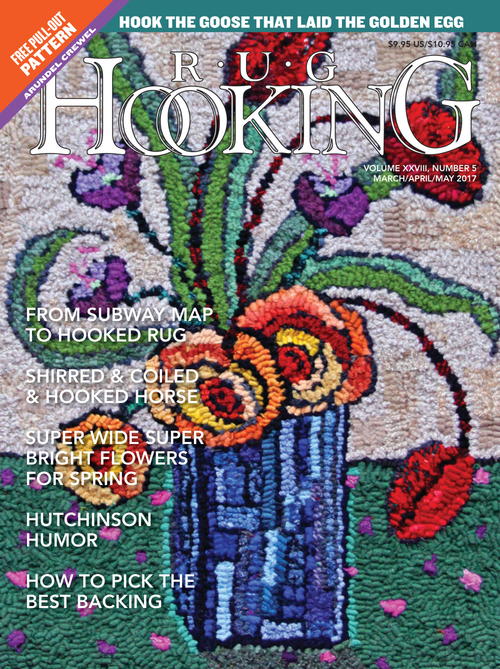 OUT OF STOCK 

In this issue, a rug hooker living in the Scottish Highlands tells us how she is inspired by the landscape around her. Closer to home, we visit a Canadian rug hooker who considers her little cabin in the woods a "hooking heaven." Do you know how to pick the best foundation for your projects? The experts at Green Mountain Hooked Rugs share their expertise and give us some pointers. We give you a sneak peek at a brand-new book by Tracy Jamar, fiber artist extraordinaire; as a bonus, she shares a wonderful pattern from the book with us. Are you ready for a chuckle? Take a look at the wonderful Hutchinson rugs from the August 2016 exhibit at Sauder Village. I dare you not to laugh out loud!

The March/April/May issue of Rug Hooking Magazine includes:

A Rug Hooking Exclusive!
Arundel Crewel
by W. Cushing & Co./Joan Moshimer
 
Rug Hooking in the Scottish Highlands
Inspirations from the Land
by Brigitte Webb
 
Rug Hooking Serendipity
A Discovery of Parallel Projects
by Catherine Heilferty
 
Hutchinson Humor
Hooking the Trials of Life . . . With a Twist
by Kathy Wright
 
Torn Blooms
Hooking a Garden in Torn Wool Strips
by Tamara Pavich
 
Creative Confines and Loopholes
Working with Repurposed Wool
by Nadine Flagel
 
"On Alert" Horse
Hooking, Coiling, and Shirring Come Together
by Tracy Jamar
 
A Love of Wool
An Artist Interprets Americana Primitives and Antiques
by Chris Coslet
 
Destinations
Canada's 150th Celebration
by Wendie Scott Davis
 
Ask the Experts
A Firm Foundation
by Green Mountain Hooked Rugs
 
Dear Beginning Rug Hooker
The Golden Egg
by Karen Larsen
 
Readers' Gallery
Francine Even: An Abstract View of the World
by Linda Rae Coughlin
 
Canadian Connection
In a Little Cabin in the Woods: Alberta Haslett's Hooking Heaven
by Sandy Oravec
 
From My Dye Pot
Funky Leaf, Funky Background
by Nancy Jewett/Fluff & Peachy Bean
 
First Rug
My Cats Mij and Zipp/Sally Stepath
by Melinda Russell

OUT OF STOCK 

Check out our other issues here! 
YOUR RECENTLY VIEWED ARTICLES
Free tutorials, expert tips, exclusive partner offers, and more straight to your inbox!