Destinations: We Want You!
Rug Hooking Week at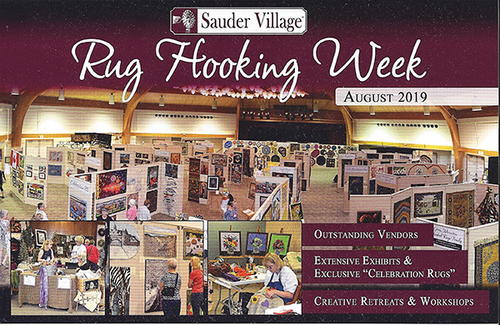 We absolutely love single-dimension (flat) rugs in the Rug Hooking Week Exhibit at Sauder Village, and you send us 500–700 wonderful rugs each year. Thank you and keep sending them!

For a bit of a twist this year, we will highlight 3-dimensional work in both our Feature Exhibits and Special Exhibits.

We also invite "YOU" to participate in this year's 3-dimensional theme in one or both of our Special Exhibits. Let your creativity, engineering skills, and design talents pour into a 3-dimensional piece!
•  Fascinators and Hats: let's get styling!
•  Dimension from Our Hands (fashion, furniture & sculpture)

We are extending the submission deadline just for RHM readers to July 1. Simply go to our website: SauderVillage.org/RugHookingWeek, click on our Exhibit page, then click on our Special Exhibit page for more instructions.

But wait . . . we have one more invitation for you!

Almost every year, someone tells me that they have found, inherited, or purchased an antique hooked rug. So this year, we are inviting YOU to share those rugs with us in the Special Exhibit—Antique Hooked Rugs. We have extended the submission deadline to July 1 for RHM readers; submission instructions are online. Typically, little is known about most antique hooked rugs, so please be sure to share any and all provenance, such as designer, hooker, region, era, fabrics, techniques, and stories.

Historic (or antique) rugs have been incorporated into the Rug Hooking Week Exhibit for many years. We love looking back at our roots. So take this opportunity to share your marvelous old rugs in this Special Exhibit.

We look forward to the amazing 3-dimensional and antique pieces you will bring us for our Special Exhibits this year, as well as the lovely flat rugs you bring.

See you at Sauder Village in August!

The feature exhibit, Hooked on Dimension, focuses on collections of 3-dimensional Fashion, Furniture, and Sculpture by these outstanding artists:
•  Sheila Arbogast
•  Sarah Bechler
•  Molly Colegrove
•  Rae Harrell
•  Tatiana Knodel
•  Rachelle LeBlanc
•  Wendo Van Essen

Kathy Wright is director of Rug Hooking Week, now in its 23rd year, at historic Sauder Village in Archbold, Ohio. The dates are August 12–17, 2019; the exhibit and vendors are open to the public Wednesday through Saturday. For more information: SauderVillage.org/RugHookingWeek
YOUR RECENTLY VIEWED ARTICLES
Free tutorials, expert tips, exclusive partner offers, and more straight to your inbox!