Dimensional Dogwoods
Beyond Our Borders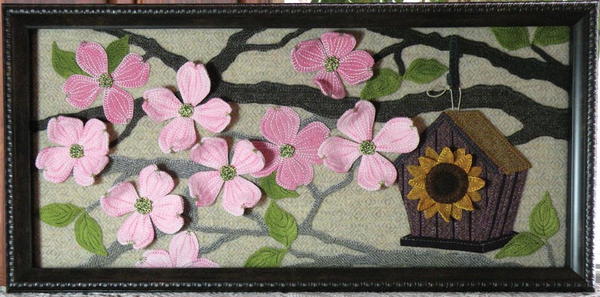 Dogwoods in Bloom, 20" x 9", felted wool appliqué. Designed and crafted by Kathy J. Gaul, Colorado Springs, Colorado, 2013.

The March/April/May 2014 issue contains a how-to demonstration on making three-dimensional dogwood blooms. Here is the backstory of Dogwoods in Bloom:

I remember when my mom turned 40 because my dad purchased and planted a spindly dogwood tree for her as a present. I can still see Dad heaving a pickax into the rocky soil of our front lawn to dig the hole for the new tree. Happy pictures were taken of Mom next to her new little dogwood. Not long after that, Dad put in a second dogwood on the opposite side of the driveway. For years, both trees grew and bloomed and were photographed many times with family members next to their pretty May blossoms, bringing Mom a lot of joy.

Today, only one of those two dogwood trees survives. The canopy now creates shade and a place of respite for my mom on her double-seater swing. That is where I often find her on warm summer days and cool fall days, swinging away with a book in hand. A birdhouse decorated with a sunflower hung within the branches until a storm took it out. The tree's bark is covered with lichen, and in places, the branches have thinned with age. It doesn't seem to bloom as profusely as it did when I was young, but all of us still love this beautiful giving tree.

I love to watch Mom's dogwood change throughout the seasons. At the peak of its beauty, the cup-shaped blooms, pink-edged with white centers, fill the branches, and here and there bright "new green" pokes out between them. Throughout the summer, the green leaves darken and fill in the holes left by the spent blossoms. In fall, Mom always comments when the berries turn bright red and the leaves take on a burgundy tinge; they provide a sure sign of fall, leaving the tree bare limbed for a quiet winter of renewal.

And so it begins. The seed of inspiration has been planted for a new design! A memory pops into my mind, a search begins for photographs (or I dig out my camera and go shooting!), a rough sketch is put down on paper, piles of fabrics and threads are tossed onto my worktable, and my brain and fingers go into overdrive, working out how to make this piece unique and different, how to bring dimension and detail into it all. As an artist with no formal art training (we call ourselves "folk artists"), I don't know if this is the right way to design a pattern or not, but it's the way I work.

Rarely do I draw from memory; I mostly draw from photographs that I take. I visit garden centers and botanical gardens to see the vast array of flowers and plants and photograph our own gardens throughout the year. I take pictures of outdoor seasonal displays, such as cornstalks and pumpkin stacks in the fall. I attend antique fairs to find pottery and old baskets, and my husband and I travel to state fairs to photograph cows, sheep, chickens, and rabbits! It may surprise some of you, but I have to work very hard to draw a design. I tell people all the time, "If you saw some of my early sketches, you would wonder how I have a pattern business!"

Once I have a picture drawn in pencil, I begin to pull out different felted wool fabrics as possibilities to choose from (I learned early on to not ink a pattern until I had actually stitched it; something always changes in the process of design.) I don't discriminate at the beginning but allow all the fabrics to sit on my table for a few days. I look at them and move them around until I like the variety of colors, textures, and values.

Once I have the shapes of wool cut out, I repeat the process of selecting which threads to use, piling up the beautiful hand-dyed embroidery flosses and pearl cottons. Sometimes I choose threads that blend well with the wools; other times I choose ones that contrast the wool. Do I want the thread to stand out more than the wool or just be the means of attaching the wool in place? Sometimes the fiber content of the thread is important as well, for different fibers act differently. Wool thread snuggles into the wool fabric, wrapping around, creating a subtle effect, while rayon thread not only stands out because it reflects light, but it also sits up and gets noticed because it doesn't like to be controlled. For the stamens of the dogwood's blooms, I worked variegated rayon thread into French knots, and its squirrely nature created a more realistic look without a lot of work.

I don't always know what area of a design I will try to make dimensional. I do a lot of thinking before I do any cutting and stitching. At the start of this piece, I planned to make the leaves dimensional as well as the blooms. Once I started, I realized that stitching all the vein detail would add too much thread to the tiny little pieces, so I decided it was best not to go that direction.

In previous floral designs, I gave shape and dimension to petals by the way in which I drew each individual petal, trying to show the curled or cupped shaping through the flat pattern piece. I also obtained dimension through the natural shaping to a piece of wool that takes place when you blanket stitch around a shape, not attaching it to any other piece of wool. Because blanket stitching works in a circular direction, when you stitch around a shape such as a petal while holding it in your hand, you get a slight curl to the piece of wool. You do not realize this when you are appliquéing a piece of wool flat to another; in that case, you do not want any curling or cupping!  

Once I determined that I wanted some of my blossoms to be dimensional, I looked more closely at photos of beautiful pink, bright white, and bicolor dogwoods. I noted that while some petals curled upward into a cup-like shape, some were almost straight out, and still others had only some portions of petals curved and arched. I knew I needed to manipulate the fabric more than the small amount the stitching would do. I needed . . . wire! I knew stitching two layers of wool together for petals would be easy, and adding a bit of wire would simply give me the ability to manipulate everything the way I wanted. And so these dimensional dogwood blooms took their shape.

My first attempt at creating a shaped flower petal resulted in two non-embellished petal units stitched together with wire in between; stitching was easy because the layers matched perfectly and nothing encumbered the wire in between. I then proceeded to add the back-stitched striations, or ridge lines, through both layers. I discovered the backside of the back stitch is not so pretty, and there was no way I could allow it to show. So even though the real ridges in real petals show on both sides of a petal, I had to alter the steps to create a petal unit so the underside of each bloom was neat and tidy. I stitched the striations first and then joined the layers of wool and wire together. That worked beautifully! Creating the petal units in this manner causes some distortion in the individual wool shapes, which then requires a little more finger manipulation and careful stitching to realign the layers of wool, but the end result is a shapeable and realistic bloom. Patience and practice do pay off!

This article is from the March/April/May 2014 issue. For more information on our issues, check out our issues page.
YOUR RECENTLY VIEWED ARTICLES
Free tutorials, expert tips, exclusive partner offers, and more straight to your inbox!