Punch Needle Artist: Andie Solar of Myra and Jean
By:
Editors of Rug Hooking Magazine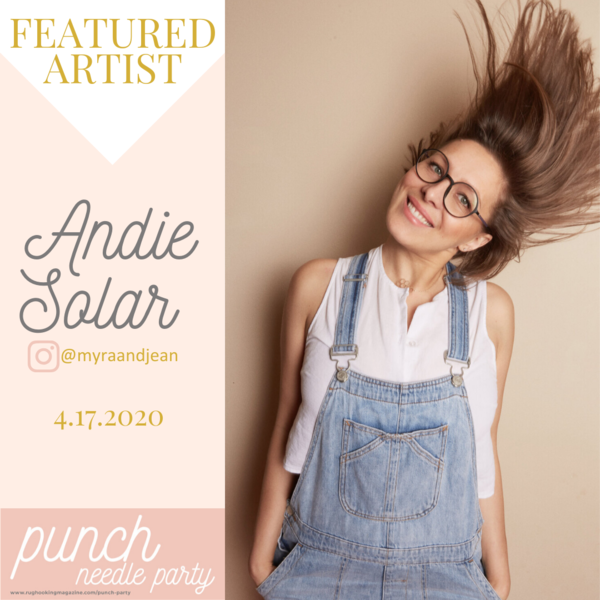 Welcome to Rug Hooking magazine's featured arists series! In honor of international punch needle day, we celebrated by asking some talented punch needle artists to share their experiences with this delightful fiber art: punch needle rug hooking. Check out our exclusive interview with Andie Solar of Myra and Jean below.

About the Artist

My name is Andie Solar and I'm a fiber artist born and raised in Slovakia, currently living in Seattle, WA.

What started as fun transitioned into a full time business and it's all because of you, so thank you, from the bottom of my heart.

When I first saw punch needle rug hooking video I was instantly hooked (pun intended)! I researched and researched and looked for the supplies which proved to be difficult. I wanted to learn, but the none of the kits available (VERY few) spoke to me. So I made my own and I haven't stopped since 2017.

When I'm not thinking about new kit ideas I'm creating my own art pieces for home with one main ingredient - coziness. With every collection I launch, there are pieces by me and also kits to choose from so I hope you find what you're looking for. And if not I'm sure I can make what you're looking for so don't hesitate to message me here, on social media or at hello@myraandjean.com.

I love creating custom pieces!

Important Links

Visit her website
Follow her on Instagram

Q&A: Let's Meet Andie!
Q: How did you get started with punch needle?

A:  I saw a video of a leaf pillow that Arouonna of Bookhou made almost three years ago and I was hooked instantly ... pun intended! :)
Q: What do you love most about what you do?
A: The relaxing feeling of punching, creating pieces for people to have in their homes, making kits for others to spread the joy and teaching the technique!
Q: How did you come across your yarn sculpting technique?
A: One of my Instagram friends, venus @fun.n.rec, has been sculpting for a while and I've wanted to try this, but I haven't for whatever odd reason. One day I hurt my back and I was stuck in bed and I thought what a better time to try. I did and I didn't look back. One thing I've always loved about punch needle is the texture it creates - the fluffier the better! With sculpting it can go sky high. :) You can punch with one color and create texture to differentiate areas in the piece you're creating. It's truly amazing.
Q: What are the steps you go through when planning a design?
A: I usually just wait for a nudge. It comes as a bolt, usually. If I sit for too long and try to come up with something I just stare into space. Once the inspiration strikes, it's go time!
Q: What are two pieces of advice you would give to new punch needle artists?
A: Don't be afraid to start and be playful! There's no right or wrong.
Punch Needle Rug Hooking Quotes to Save and Share!
YOUR RECENTLY VIEWED ARTICLES
Free tutorials, expert tips, exclusive partner offers, and more straight to your inbox!