Winter Perch
Punch needle with embroidery floss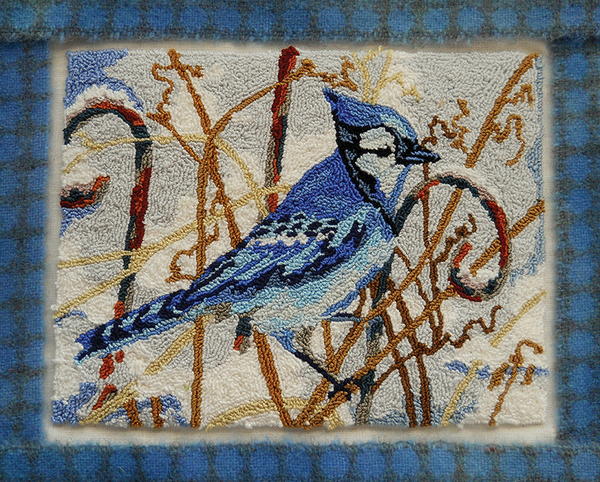 Winter Perch, 7" x 5", 6-strand DMC floss on weavers cloth, loop length on shortest setting. Designed and punched by Michelle L. Palmer, Palmyra, New York, 2018.

How does an artist, who has passionately worked with ink and watercolor for 30 years, develop a fascination for fibers? They have potential. Fibers have the ability to bring ideas and sketches to functional products. Wool and cotton do not stay tucked in a book nor are they required to be protected behind glass. Fiber pieces are tangible works of art.

For many years, I illustrated and painted from dawn until dinner. I was content working late nights and weekends to meet art deadlines and build my licensing portfolio. Being self-employed allowed me the flexibility to work around our family schedules and tuck in extra studio time whenever possible. Fourteen years ago I had a hankering to make one of my children's book characters three dimensional. I wanted to take my work to the next level and place the felted character in our child's hands. Little Owl needed to be plush, soft, and cuddly—without sewing. I discovered needle felting with wool roving, and so began my love of fibers. I accomplished something with roving that I could not capture in my sketches or watercolor. My needle-felted owl was formed without a full-color illustration. I painted him with every poke of the barbed needle, shaping him with colorful wool fibers. Little Owl developed a presence and personality that brought him to life and helped me finish my book.

Roving supplies were limited when I first began felting. I purchased carded wool from local sheep farmers and began building my palette by dyeing at home when time allowed. My husband searched out a local fiber festival. When we walked through the festival gates, a whole new world opened up to me! Hooked rugs were displayed everywhere! We gathered plenty of roving, but I had an even stronger pull toward the rugs. How do they do that? I want to do that! I was drawn to fibers through the talent and vision of other craftsmen. The festivals became a rich resource for gathering textures, plaids, overdyed wools and mottled wools in an endless array of colors. After a few years of gathering wool, I was ready to begin my first hooked rug! I called ahead to the stitchery shop with a few questions, and the owner invited me down. The store was brimming with inspiration! I spotted a small punch needle piece, and it was love at first sight: a masterpiece. The punch needle work reminded me of a mini hooked rug or even a small textured painting. The owner and I talked punch needle for over an hour. Her knowledge and enthusiasm expanded my interest. I walked out of her shop with punch needle supplies and a little hop in my step.
YOUR RECENTLY VIEWED ARTICLES
Free tutorials, expert tips, exclusive partner offers, and more straight to your inbox!