Happy Butterfly
Updated March 03, 2020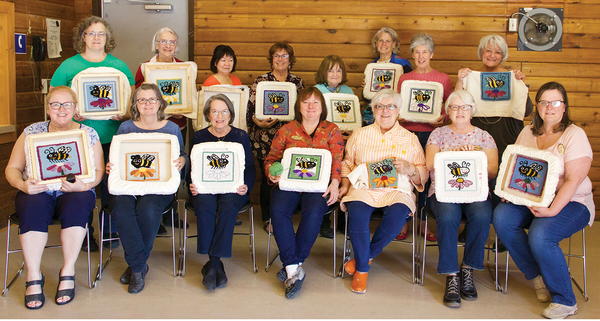 Members of the Olde Forge Rug Hooking Branch in Ottawa with last years International Punch Needle Rug Hooking Day Project JANET SMITH
The Happy Butterfly was created using an Oxford punch needle. If you are new to punch needle rug hooking, please read "The Oxford Punch Needle Handbook" 
that comes in the Oxford Punch Needle boxed set and will tell you everything 
you need to know to be an excellent puncher! Amy Oxford's book, Punch Needle Rug Hooking: Techniques and Designs is even more detailed than the handbook if you want 
to learn more about the craft
Materials List

#10 Regular Oxford punch needle
#10 Fine Oxford punch needle (optional)
Monk's cloth or suitable 
foundation cloth
3- or 4-ply rug yarn in the following colors: light blue, light green, gold, red, pink, dark blue, white, and black
General instructions
Use a #10 regular Oxford punch needle, which will make a ¼" tall loop.

Keep in mind that you're punching on the back or the "wrong side" of the piece. The other side will be the front, the "right side" of your mat. Turn your work over regularly as you work to make sure your loops are all the same height on the right side. If your loops are uneven, you are either lifting your needle up too high or not punching down all the way.

You'll be using two stitch sizes: 4 spi (stitches per inch) and 6 spi. The 4 spi is for filling in. 6 spi is for the outer border, outlines, and single lines.
•  
First punch one row of light blue as a border to outline the square sky. Punch right on the black line, using 6 spi.
•  
It's best to continue establishing details and outlines first, all of which will be punched using 6 spi. Begin with red to outline the wings, pink for the body, and green for the antennae.
•  
Use the #10 Fine Punch Needle with 2-ply yarn to create detail in the eyes, nose, and mouth.
•  
The body can also be punched as a solid pink, using the #10 Regular Oxford punch needle.
•  
Use a fill stitch (4 spi) to punch the various colored dots and to fill around the dots with red.
•  
I've added little black dots in the background sky. Tip: it requires 3 punches to make a "dot."
•  
Punch the remaining background sky at 4 spi. Resist the urge to make small stitches when you get into tight spots. This results in over-packing and will make your mat lumpy. Equally important, don't make your stitches large, as big as 3 spi, or you'll have gaps on the right side of your mat. Try your best to use 4 spi for all of your background.

Finishing
After you're done punching, you'll need to tidy up the front side of your mat. It will look messy with long ends (tails) sticking out and some uneven loops. Many of your loops won't even be in the right place. Don't despair! Everyone's work looks messy at this stage! There are two things you need to do: "snipping" and "poking."

Snipping: Before you take your mat off the frame, work on the front (the finished loopy side) and cut off all the ends that are longer than the loops. Cut any loops that are too tall so they're the same height as the other loops.

Poking: many of your loops will be where they don't belong. Use the point of your scissors to corral any errant loops until your design looks better and the loops are where you want them.

Pressing
Steam pressing your project will make it uncurl and lie flat. Use a regular bath towel, run it under cold water, then wring it out. With the finished butterfly face up, lay the towel on top. Set your iron on the highest 
setting. Hold the iron down in one spot for about fifteen seconds. Move your iron and repeat until you've steam pressed the entire area. 

Your project can then be hemmed and finished as a mat or wall hanging, for complete directions see The 
Oxford Punch Needle Handbook 
or Punch Needle Rug Hooking: 
Techniques and Designs.
Additional Images
Happy Butterfly, 8" x 8", wool yarn on monk's cloth. Designed by Isa Beniston and punched by Christie Beniston, Solana Beach, California, 2019.

Happy Butterfly pattern, © Isa Beniston, 2019. Designed for International Punch Needle Rug Hooking Day 2020, so share with your punching friends and be sure to show us the results! Not for resale. For a mat approximately 8" x 8", enlarge this pattern by 110%
Thank you for participating in International Punch Needle Rug Hooking Day on April 18! Don't forget to share your work on social media—we all want to see what you have done. Let's have lots of little butterflies flitting around this April. Happy punching!
IPNRHD—What the heck is that?
International Punch Needle Rug Hooking Day Celebrates 10 Years!
April 18, 2020, is the day! Are you ready to celebrate with us?

This year marks the tenth anniversary of International Punch Needle Rug Hooking Day! Back in 2010, Oxford instructors created a day that provides workshops and demonstrations on punch needle and rug punching across the US and Canada. With new Certified Oxford instructors across the globe, events are planned around the world! This year International Punch Needle Rug Hooking Day will be on Saturday, April 18, 2020, and punch needle rug hookers are invited to join in the celebration.

As we did last year, we are providing a pattern for all the punch enthusiasts. The pattern for 2020, Happy Butterfly, was created by Isa Beniston of Gentle Thrills and is made available for Oxford instructors and others to use as part of IPNRHD 2020. Just like Oxford instructors, butterflies "go wherever they please and they please wherever they go!"

We encourage everyone to pick up their punches and celebrate this traditional craft that's enjoying unprecedented interest.

The butterfly pattern is made available for all the readers of Rug Hooking magazine. It is also available as a download at www.punchrughooking.com. Makers interested in participating in IPNRHD are encouraged to punch the butterfly and share their work on Instagram by tagging it with the hashtag #IPNRHD.

Not on Instagram? We still want to see what you make! Pinterest users can pin photos on the "International Punch Needle Rug Hooking Day" board where you can also see last year's Busy Bees project. Photos of your finished projects can also be emailed to info@punchrughooking.com, where they will be shared online with the international punch needle rug hooking community.
Christie Beniston is a public artist and has had a thriving art practice for over 30 years. Her public commissions include the San Diego Airport, Lucille Packard Children's Hospital and LA Metro. Christie holds a BFA and received her certification as an Oxford Instructor in 2017, when she established PUNCH!, a studio offering supplies and a creative space for teaching punch needle rug hooking. Christie can also be seen as a co-host, with her daughter Isa, of "Maker Knows Best," a YouTube series for Bluprint and the NBCUniversal Digital Lab.
YOUR RECENTLY VIEWED ARTICLES
Free tutorials, expert tips, exclusive partner offers, and more straight to your inbox!