First Rug: The Light / Joe Martinez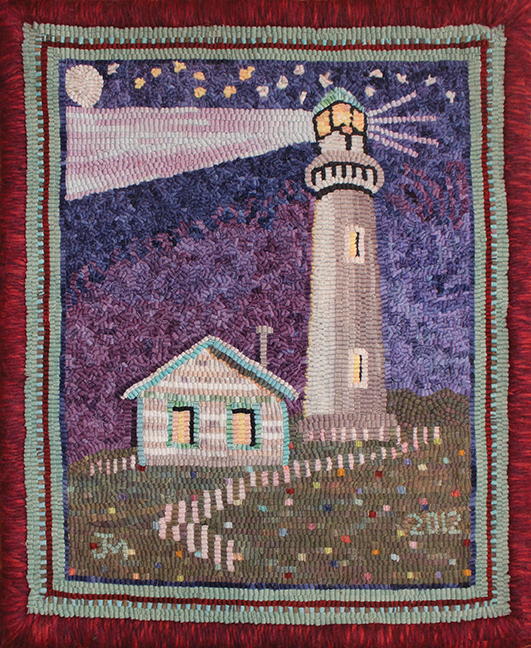 The Light, 16" x 20", #6-cut wool on linen. Designed and hooked by Joe Martinez, Petaluma, California, 2012. 

I was first inspired and introduced to rug hooking by my wife, Christine. In 2011, she came home from the Sonoma County Fair where she had seen the hooked rug display. She decided to begin her first hooked project. I watched her hook every day for at least a year and I thought to myself: "Rug hooking can't be that hard to do, can it?" Christine told me about a class that would be in our hometown (Petaluma, California); the teacher was going to be the awesome Laura Pierce. We signed up for the class.

When I started hooking with Laura in 2012, she told me she had a beginner's design for me, but I said "No, thanks." I had my own ideas . . .

The lighthouse started from a photo my wife took while we were vising Pidgeon Point Lighthouse near Pascadero, California.  I made a drawing from that and transferred my design onto linen backing, purchased a hook, bought some wool (lots of wool!) and I was off. I wasn't sure if I wanted a day or night theme so I was prepared for both. I was new, but I did have a picture in my head of how I wanted my first piece to look.

"Shading," I heard someone in my class say. What is shading and how to you make something look round when it was flat? Boy, was I lost. In the beginning, it seemed that the more I hooked the more I pulled out. "Technique," I thought. "What was that?" Through my frustration I reminded myself that I was learning patience (a road I was familiar with, from when I learned to knit, sew, or bake). 
 
YOUR RECENTLY VIEWED ARTICLES
Free tutorials, expert tips, exclusive partner offers, and more straight to your inbox!