Not Quite White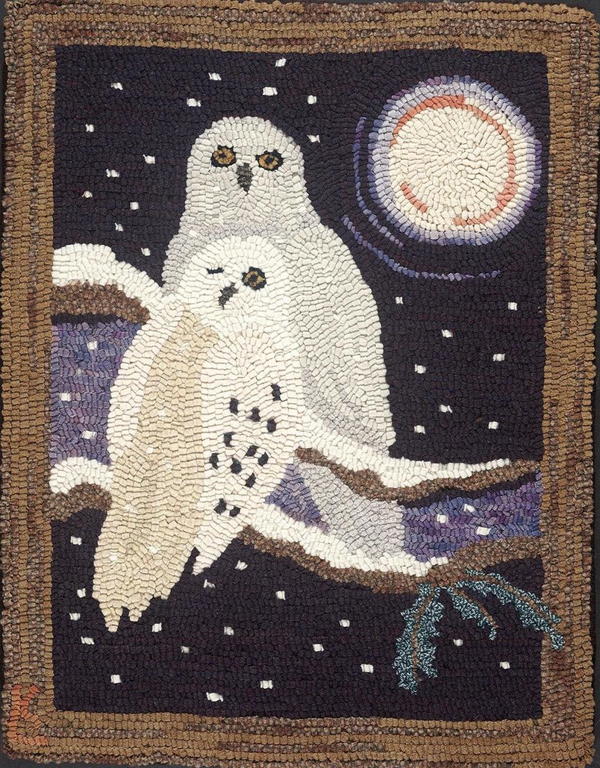 Photography by IMPACT XPOZURES
Not Quite White, 21" x 27", #8- and 6-cut wool on linen.  Designed and hoooked by Karen Larsen, Crows's Foot Farm Designs, Elliottsburg, Pennsylvania, 2012. IMPACT XPOZURES.

When I took my first rug hooking class back in 2006, my teacher taught that the colors black and white should be avoided in hooking because they are too stark. I was planning to hook a crow rug at the time, so that posed a bit of a problem: how could I make a black bird without using black? I decided to hook the crow with dark brown, navy, and dark green textured wool and, to my surprise, the crow really did appear black! I guess the mind sees what it expects to see. 

So, if black is the absence of color and, therefore, not a color, what is black's counterpart, white? White is the sum of all the colors of the spectrum and reflects those colors back to our eyes.

How could I hook something that is white without using white wool? I decided to take on that challenge and hook a rug depicting snowy owls (scientific name, Bubo scandiacus) perched on snowy branches. I wanted to use subtle shades of off-white and other pale colors to suggest shading, while still maintaining the suggestion of white birds and snow.  Because of my very limited experience with dyeing, this would not be easy.

This article is from the November/December 2012 issue. For more information on our issues, check out our issues page.
YOUR RECENTLY VIEWED ARTICLES
Free tutorials, expert tips, exclusive partner offers, and more straight to your inbox!