Rocks and Rugs: When Opposing Textures Meet
Reader's Gallery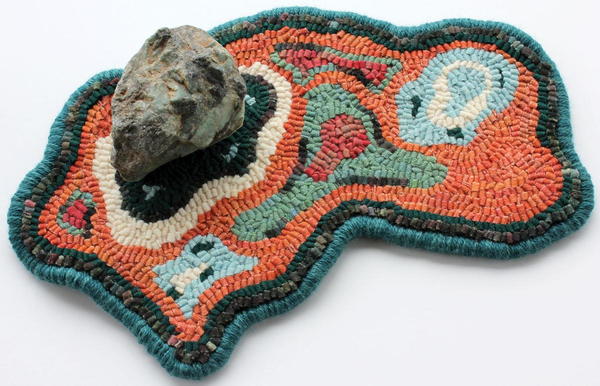 Emerald 1, 14 1/2" x 9" x 2 3/4", #6-cut wool on monk's cloth. Designed and hooked by Lori LaBerge, Spruce Pine, North Carolina, 2012.

A piece of petrified wood from a family vacation catches my eye as I walk by an old chest in the entry area of my home. I see coldness, hardness, roughness, and—despite these characteristics—beauty. There is, however, something missing. The rock is sitting on the hard wood of the chest. Somewhere in my mind, I hear a call for warmth and softness; this rock needs a place to nestle, to be at home, yet still stand strong. This rock needs a rug.

My "rock rugs" consist of opposing textures brought together to complement each other. Those who work with rocks transform them into shiny, glowing, sparkling gems. Those of us who dye our own wool transform fabric into cloth of magnificent color and deep feeling. Bright, dull, mysterious, happy colors speak to us—we reach out to touch the soft surface of the newly dyed wool. It is this combination of rock and rug—of hard and soft—that intrigues me. The rugs are soft, playing off the hard texture of the rock.  

This article is from the November/December 2012 issue. For more information on our issues, check out our issues page.
YOUR RECENTLY VIEWED ARTICLES
Free tutorials, expert tips, exclusive partner offers, and more straight to your inbox!