3 Hookers Go 3D
Open a whole new world of rug hooking.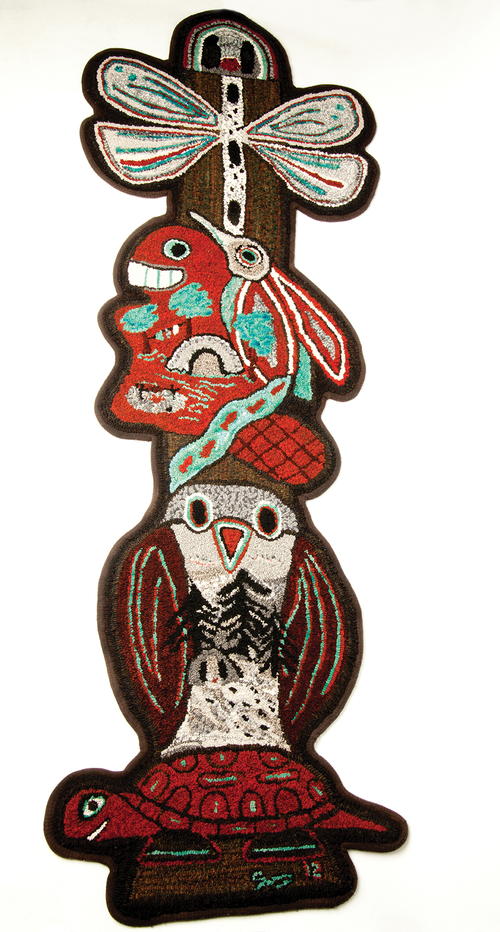 Photography by Suzanne Cantrell
My Totem, 32" (the flat rug at its widest point) x 92" x 9", #8-cut wool on linen. Designed and hooked by Suzanne Cantrell, Pleasant Hills, Iowa, 2014. 

Just as painters sometimes sculpt, so rug hookers occasionally imagine creations that can stand upright in the middle of a room and be viewed from many angles. The three hookers featured here have hooked many rugs that lie flat on a floor or against a wall, but these particular projects came into their fullest expressions with an added third dimension: depth.

Suzanne Cantrell's My Totem tells its story standing tall. Bringing nature inside, Lois Morris's Shaggy Bark River Birch protrudes from her wall, offering a treat for a downy woodpecker. Diane Louise Cox's Flower Lady rises from her flower pot and blooms in many directions.

It's important to note that at least two of these projects began as two-dimensional hookings. The idea to add depth grew on these rug hookers, as their stories will tell.

 From Suzanne Cantrell

While taking an Alaskan cruise, Suzanne read the Native American legend of two old women, members of a tribe in Alaska. During a famine, the women complained so much that their people actually abandoned them. Left in the cold to die, the two decided to remember the skills of their youth and survive. They made it through winter, spring, and summer, and by autumn, they had set aside a store of food. Meanwhile, their tribe fell on even harder times and, as fate would have it, ended up seeking the help of the old women they had left behind. This is a story about resourcefulness, friendship, and the value of elders. 

The daughter of Sharon Townsend, Suzanne has been hooking rugs for a long time. The story of the old women made such an impression on her that she began sketching her favorite scenes to hook, after which she landed in a Decorah, Iowa, workshop with teacher Diana Geisinger. Here, the idea of the totem came to Suzanne. She incorporated five symbolic animals into the design: a turtle for holding up the world, an owl for wisdom, a beaver and hummingbird for industry and hard work, and finally a dragonfly for whimsy. Using templates, Suzanne tried different arrangements of her motifs along with the vignettes of the two old women. Ultimately, she created a rug of irregular shape (not a typical rectangle), and she restricted the color palette to mostly red, turquoise, black, and white, a scheme she associates with Alaska.

Suzanne began the totem in 2012, the same year that her sister Becky was diagnosed with lung cancer. It was fifteen months later, after Becky's passing, that Suzanne finished her totem, having taken five lessons from the experience:

1. Life is too short, so enjoy every minute.  
2. You start something, and it grows beyond your expectations.
3. Muses exist.
4. Pain is a part of life, but it doesn't have to defeat you.
5. Old women have value.


Tamara Pavich has been hooking since 2008. She loves searching the rug hooking world for interesting stories and designers and has frequently written about creative rug hookers for RHM. If you have an idea for a story, write to Tammy at tammypav@cox.net.

This article excerpt is from the September/October 2016 issue. For more information on this issue, check out our issues page.
YOUR RECENTLY VIEWED ARTICLES
Free tutorials, expert tips, exclusive partner offers, and more straight to your inbox!