Celtic Designs
By:
Gail Lambert and David Rankine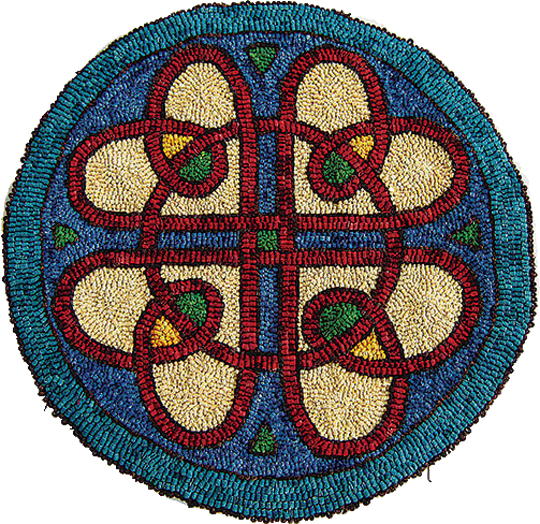 Celtic Circle, 15" diameter, #3- and 5-cut rug warp. Designed by David Rankine and hooked by Gail Lambert, Nova Scotia, Canada.

I was fortunate as a child to have creative women in my family as role models. I often think of them as I sew or hook a project. How amazed they would be to see the variety of fabrics and dyes available today, wool that can be cut into strips with a machine and not painstaking by cut by hand, and dyes that can be obtained by opening a jar and not gathered, dried, pounded, or boiled! But when I work on a Celtic project, my thoughts go past my recent relatives and focus on my ancestors, the Celts.

Here I sit in a warm, dry, well-lit home creating a Celtic design of beauty for ornamentation on my floor or wall. What would they think of such an activity?

I hook a Celtic letter in a few months, working as often or little as I wish. Compare this to a group of monks living in a stone, unheated, poorly lit monastery working on one page for 30 years! Although I know my mats will easily outlast me; I doubt these monks could comprehend the hundreds and hundreds of years their devotional works of art have lasted!

Last year I was fortunate to connect with David Rankine who designs outstanding Celtic art and, of particular interest for me, Celtic letters based on those from the Book of Kells.

This article is from the September/October 2015 issue. For more information on our issue, check out our issue page.
YOUR RECENTLY VIEWED ARTICLES
Free tutorials, expert tips, exclusive partner offers, and more straight to your inbox!