Color Coast to Coast: 2013 ATHA Biennial
Camps and Workshops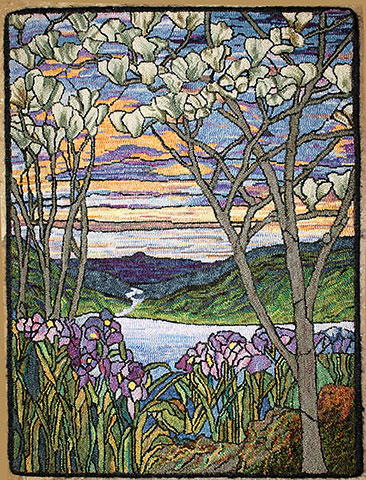 Stained glass–style rugs, like this one hooked by Peggy Khachaturian (pattern by Charco/House of Price), will be on special display.

ATHA Biennial, Long Beach, CA, September 25–28, 2013 

Famous for its movie premieres and awards ceremonies, Southern California plays host to the 2013 ATHA Biennial, and that legendary red carpet will roll out on opening night to welcome rug hookers from around the globe—all celebrities in their own realm. Staged in Long Beach, California, at the beautiful waterfront Hyatt Regency, attendees will enjoy a stellar cast of teachers, classes, speakers, and vendors, and a wealth of outside activities available only in the Long Beach area. As an added bonus, every hotel room overlooks the beautiful Pacific Ocean. (Say, isn't there a movie called A Room with a View? Imagine yourself hooking in front of your room's window with the moon sparkling on the waves.)

Every two years, ATHA's Biennial brings new and exciting experiences to beginning through advanced rug hookers. This year's host, Region 12, is working hard to ensure that 2013 is no exception with the Color: Coast to Coast theme. Twenty-six instructors offering twenty-five different classes will share their expertise—from simple hooking, to three-dimensional projects, to adding new and unusual mediums to their creations. Even teachers will learn: not how to hook, but how to run a class, start a business, avoid pitfalls, deal with problem students, buy and sell supplies, and much more. 

Friday's dinner and auction will offer many unique treasures you can purchase to support our Biennial. Many of the Show Us Your Color challenge rugs will be auctioned. 

Drawings and workshops will be held throughout the event, starting with the Opening Night on the Red Carpet reception on Wednesday evening. Everyone in attendance will be entered into a drawing for a beautiful rug designed, hooked, and donated by Carla Fortney, a Southern California hooking artist, teacher, and past Celebration winner.

Fifteen vendors will enrich your stashes and supplies. Wools—hand dyed and on the bolt—will be plentiful, along with patterns, kits, books, magazines, hooks, frames, cutters, dye spoons, dyes, punch needle supplies, silks, braiding tools and supplies, and much, much more. Add to that the new and unusual items the vendors might come up with to entice us!

Exploring Long Beach (transportation is free to many attractions) will be a treat. Board the famed Queen Mary, which is docked in Long Beach's Queensway Bay, and take advantage of historical tours, unique shops, and restaurants. 

The Aquarium of the Pacific is nearby, offering up-close and personal interaction with many glorious fish and other sea creatures. If art is more to your liking, the Museum of Latin American Art and the Long Beach Museum of Art are nearby.

After serving our country for over 50 years, the USS IOWA, built in 1940 and now in her new home in nearby San Pedro Harbor, is transforming into the most interactive and educational museum of her kind. 

Located just minutes away at the Los Angeles waterfront, Crafted LA is soon to be the nation's largest indoor, year-round craft marketplace. Set adjacent to a picturesque marina and just steps away from the ocean, artisan food makers stand alongside designers and crafters/artists to create a bustling intersection of art and commerce. Crafted LA is open on weekends.

Catalina Island is just a 26-mile ferry ride away for you nautical folks. And weather?  Look forward to shirtsleeves and bring your suntan lotion.

The exhibit at this Biennial comprises those rugs brought by attendees for display (everyone is encouraged to bring samples of their work), a special section of stained glass-style rugs (see the connection we've made for you with our guest speaker), and the Show Us Your Color challenge rugs. We anticipate a huge array of breathtaking work. Every rug is displayed with pride.

Susan Vreeland

Saturday's closing dinner features author Susan Vreeland, the internationally known author of art-related historical fiction. Her newest, Clara and Mr. Tiffany, is a New York Times best seller. 

Susan's presentation, Flamboyance: Design Motifs from Stained Glass and Nature, will highlight her passion for art. Through the extensive research for her books on Vermeer, Renoir, and Emily Carr, to name just a few, she has become more appreciative of the beauties of the visible world. Thanks to art, instead of seeing only one world and time period, our own, we see it multiplied and can peer into other times, other worlds which offer windows to other lives. Susan's book Clara and Mr. Tiffany will be on sale that evening and she will autograph a copy for you. For more information about the author, visit www.svreeland.com.

This article is from the March/April/May 2013 issue. For more information on our issues, check out our issues page.
YOUR RECENTLY VIEWED ARTICLES
Free tutorials, expert tips, exclusive partner offers, and more straight to your inbox!