Colors to Dye For
A preview of The Color Lab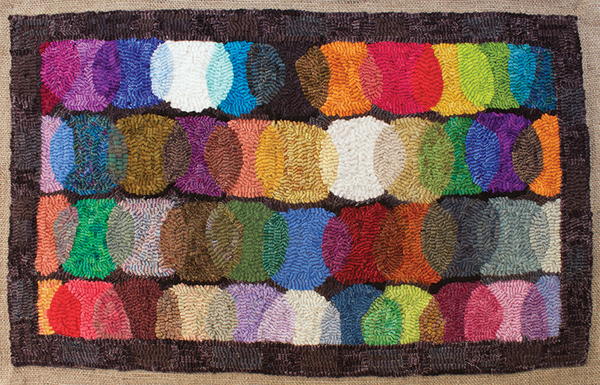 A preview of the book you've been waiting for!

Intersections, 24" x 15", #8-cut wool on linen. Designed and hooked by Wanda Kerr for her online class, Spark. 2017. Imagine what happens when two colors hook up. What would their baby look like? Wanda examines this question in this rug, which she developed for her 2017 online class, Spark.

Hello, Friends! It's been a while since we connected. I've missed chatting with you about dyeing and color and I hope you've missed me a little, too. I have spent the last year or so pulling together something special, and it took all my mind, body, and soul to do so!

For years, people have asked me to write a book—I don't think they knew how much work it is to birth such a being, and neither did I, to tell the truth. It took all my concentration and a lot of help from a few special people.

My book is ready for you now. It's all about color, how to understand it and use it more powerfully. It is a simple book about a complex subject. I created it so you can move through the ideas of color sequentially and easily. These concepts are tested and refined through the fire of my teaching and my online classes on The Welcome Mat. I'm fervent about helping you use color more effectively.

Using color effectively is not a special talent that only a few are gifted with at birth. Some have more virtuosity than others, but all of us can become competent with color.

My aim in The Color Lab is to help you through the idea of color, step by step. I wanted to eliminate the common confusion we often have with color talk and theories. This book will help us all become more effective colorists. 

The best learning is often accomplished through a few different approaches: watching, listening, or reading. Most of us of us have "head knowledge," an intellectual comprehension of color. This head knowledge becomes "deep heart knowledge" when we take action. Heart knowledge is when we don't need to ruminate anymore; we know instinctively what to do. 

This is a lab book. It requires participation to get the most out of it. Actual hooking is the best way to begin to understand how to use color in more deft, apt, and exciting ways. I'm a staunch believer in the rigor of action for deep understanding of a subject.

I've loved color for as long as I can remember. But it was only since I hopped on the rug-hooking bus that I had to get hold of it and use it as a tool. Thinking of color in this way, as something I could wield, drew my thinking away from what I first noticed about color. We are all entranced by hues, like reds or greens or our own favorite colors. Rug hooking led me to a fuller understanding of my hue loves. I delved into the components of what made up the greens and reds and how the elements of these colors made them act in certain ways when I placed them in a composition.
Every color has four parts that make it what it is
1. Each color belongs to a hue, or a color family. We see these families around the color wheel and we call them names, like orange and yellow–green.

2. Every single color has a value. Once we understand how to decipher value in hue, we will have the tiger by the tail. Value adds more contrast and depth of field to our work.

3. Every color also sits somewhere between gray (no color present at all), and bright (full of color). This element of color is called saturation or intensity.

4. Colors also have a temperature. They sit either on the warm side of the color wheel or the cool side. Colors that are warm are the colors we see in flames. Colors on the cool side of the wheel are colors found in water.

These four components work together to make each color uniquely itself. Just as we have names and addresses and nations we live in to describe who and where we are, color has a similar set of descriptors to define itself.

In The Color Lab, I explain what color is, what each component means, and how to measure it. I show you how components work together at once to make a single color. I've got little quick labs for you to try out on your frame to cement your reading into a sturdy color path, built one brick at a time.

Once we understand the inner workings of color, we look at what we can do with color. Chapters on relativity, contrast, creating glow, creating depth and many more give you the color experience you've been looking for. The book has a trouble-shooting section and a section about your predilections around color and how they influence your choices. I give you good advice on overcoming them, too. I've included a few dyeing exercises to help you create your own tools to use for measuring color.

As my hooking bus meandered up steep and narrow paths, went careening around corners and plummeted into some deep valleys, the only sturdy strap I had to hang onto was color. Clutching my color strap allowed me to fully understand the glorious panoramas that color made available to me. Eventually I was driving my own bus—and you can, too.

Rug hooking taught me everything I know about the effective use of color. Once you learn to pull loops, the most important skill to learn is how to use color. In The Color Lab I share my knowledge in a way that will reveal a world of possibilities and potential. I can't wait for you to read it and—better yet—try some of the exercises!
Detail of September Vogue, showing areas of various contrast.

Detail of In a Word. Different colors of similar value all work together.
Wanda Kerr just rejuvenated her online platform, The Welcome Mat. Pick the sections you are most interested in and subscribe to only those, or wander around the archives for free. The Welcome Mat is Wanda's main teaching outreach—join her there to learn about upcoming online classes, challenges, and teaching dates. Go to www.wandaworks.ca for her handmade Majic Carpet Dyes.
YOUR RECENTLY VIEWED ARTICLES
Free tutorials, expert tips, exclusive partner offers, and more straight to your inbox!