Destinations: "Re-imagined" 2021: A Collaboration
SUCCESS! Leads to Bigger Things
By:
By Josephine Franco; Photography by the Artists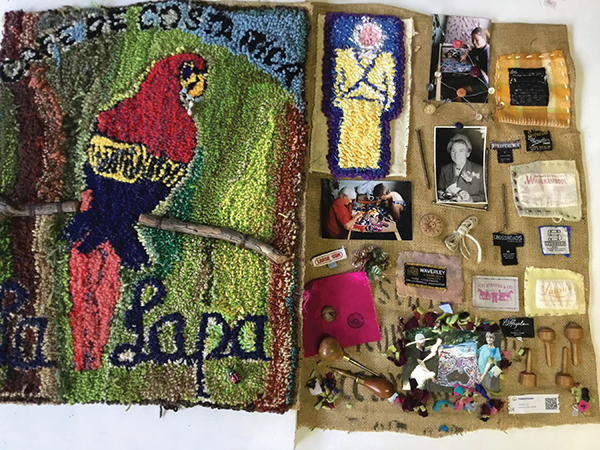 Judith Brook, Queensland, Australia.

Hooked on an old decomstructed coffee sack

There was a special event at the 2018 Rug Hooking Week in Sauder Village, Archbold, Ohio—the launch of the inaugural virtual exhibition Re-Imagined. Re-Imagined is a mixed-media textile exhibition, featuring traditional craft in a hi-tech setting: it is a virtual exhibition in an online gallery, not just as digital images on the screen.

The mixed-media exhibition was limited to works by artists from the Southern Hemisphere. Within Australia, the tyranny of distance makes it too difficult and costly to send even small works to exhibitions around the country, so we needed to think creatively. The main focus of the exhibit was to publicize the art/craft of rug hooking, and we decided to be inclusive and invite all textile artists, not just rug hookers.

There were two requirements: at least one of 12 listed simple rug-making techniques had to be included in the work in some form, and embellishments chosen from a list of categories were required. This second requirement was to take the traditional rug hookers out of their comfort zone.
To overcome the questions about "Why a virtual exhibition?" and "Why the unusual embellishments?", the convenors (Judi Tompkins and Jo Franco) created a collaborative installation they called "Textile Tessera" to be shown at Rug Hooking Week. There, rug hookers could pick up and examine the pieces and see the different techniques and embellishments.

This turned out to be quite a challenge since Jo and Judi live on opposite sides of the very large Australia. Each worked on 6 of the 12 pieces, using fabric supplied by Judi. Judi sent her finished pieces to Jo, who would carry the Installation in its own suitcase to Sauder Village. The pieces were individually labelled and finished off by Peta Korb, a member of Jo's Wanneroo Rugmakers group. 

The two most frequently asked question at Rug Hooking Week were encouraging: "Would we be offering the virtual exhibition again," and "Could we make it open to everyone?" 

The answer to both questions is a resounding YES!  Get ready for Re-imagined 2021: A Collaboration.  

Calls for Entries will go out mid-2020, with the deadline for images of finished work April 30, 2021. The online opening will be mid-August 2021, coinciding with Rug Hooking Week and the TIGHR 2021 Triennial.

Like the inaugural mixed-media exhibition in 2018, entries will be juried and shown in an online gallery setting. There will be an entry fee and works can be listed for sale.

There will still be the requirement for the use of at least one of the listed rug-making techniques to be visible in the work. The only other requirement will be that two or more people must collaborate on the entry; the collaborators can either be rug hookers or artists from any other discipline.

The curator for the virtual exhibition is Kira Mead from Albany, Western Australia. As well as creating videos for this event, Kira has also produced videos for the Australian Rugmaker Guild.
Additional Images:
Cynthia Nicklin, 28" x 42". Queensland, Australia.

Robin Inkpen, 25" x 27". Western Australia.
Twelve Rugmaking Techniques
These simple, off-beat techniques for rug making were chosen to encourage non-rug hookers to meet hte "hooking requirement" without having to invest in expensive equipment in order to participate.
Braiding
Wrapped coils
Standing wool
Tomboy/chunky rug maker
Proddy/proggy
Stick weaving
Traditional rug hooking/hooky
Punch needle
Latch hooking
Locker hooking
Hand tufting
Toothbrush rugmaking/nalbinding
About the Author:
Josephine (Jo) Franco, rug hooking artist and McGown Certified Instructor, is a member of The International Guild of Handhooking Rugmakers (TIGHR), and co-founder of the Australian Rugmakers Guild (2008). Jo is the Guild's newsletter editor and has been instrumental in establishing community rug-hooking groups, networking to support isolated rug hookers, and promoting the art/craft of rug hooking.
YOUR RECENTLY VIEWED ARTICLES
Free tutorials, expert tips, exclusive partner offers, and more straight to your inbox!