The Elements of Art for Rug Hookers, Part 2
Line, shape, and texture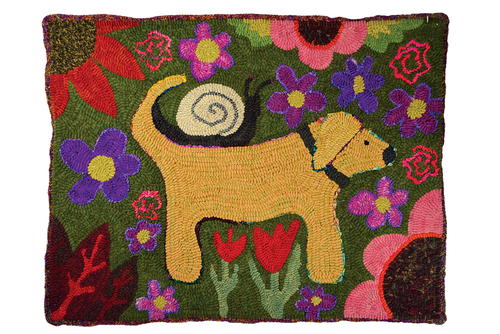 Golden in the Garden, 31 1⁄2" x 24", #9-cut wool on linen. Designed and hooked by Nola Heidbreder, St. Louis, Missouri, 2015.

"A drawing is simply a line going for a walk." -- Paul Klee

Line

Perhaps it never occurred to you, but that rug you are working on right now started with someone putting pencil to paper and "taking a line for a walk." Once one end of a line joins the other end, it becomes a shape. This element will be addressed a little later on in this article.

By its very nature, rug hooking is comprised of lines. That is, when you take that strip of wool and start hooking it in a direction, you have hooked a line. Lines in your rug can be quite obvious—as when you outline an element—or lines can be more subtle—as when you hook a background. Some backgrounds are hooked in squiggly lines that look like an unearthed pile of wriggling worms. In contrast, the Grenfell rugs were hooked in precise horizontal lines.

So what exactly is a line? A line is sometimes defined as a moving dot. Its width is very small in comparison to its length. Lines can suggest movement and be expressive in a rug or painting. Contour lines outline the edge of shapes. Shapes without an outline have implied lines along their edges. Gestural lines are used to show action and physical movement.

Lines are not all created equal. Lines can be quite thin or very thick. Think about what size cut you use in your rug. Lines can be horizontal, vertical, diagonal, curved, or meandering. Some lines are broken, but the eye strings these dashes into a continuous line.

Line is all around us both indoors and outside. Look around your house for lines: where do you see them? Perhaps the grout between the tiles on your floor or vertical slats of a chair. Outside, we live in world of lines both manmade and natural: spider webs,
the veins of leaves, grasses, and cracks in rocks.

Look back at some of your past rugs and examine how you used lines. How might line be better used in your future rugs?

Every rug hooking pattern, whether purchased or your own original drawing, will have a backing full of lines. Before you begin hooking, think about how line will be used in that rug. Will any lines be hooked as outlines? Will there be expressive lines to create movement, such as lines in the sky to depict a blustery day? Pause and give it some thought before you pull up that first loop.
YOUR RECENTLY VIEWED ARTICLES
Free tutorials, expert tips, exclusive partner offers, and more straight to your inbox!