Fiddleheads in Wool and Velvet
Updated September 27, 2019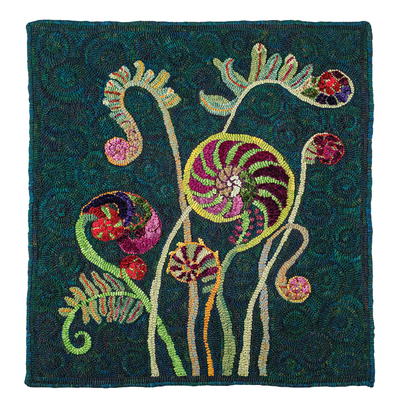 Fiddleheads, 26" x 24", #4- to 6-cut wool and hand-cut velvet on linen. Designed and hooked by Brigitta Phy, Sebastopol, California, 2016. 

Fiddlehead ferns are young ferns just starting to uncurl from their winter sleep, and are named for their resemblance to the finial at the end of a fiddle. 

Growing up in Vermont, I have fond memories of foraging for fiddleheads in the early spring. Fiddleheads are edible and quite a delicacy after a long winter with no fresh greens! My mom would steam them and serve them with butter and salt. They were a delicious special treat and just thinking about them brings me back to our house on the hill in the middle of rural New England. 
These memories from my youth about fiddleheads were triggered by a punch-hooking class that I took with Sara Judith at the TIGHR Triennial in Victoria, British Columbia, in the fall of 2015. Sara's class featured recurring shapes in nature and for the class I chose the nautilus shell to punch-hook. As I was punch-hooking the nautilus, I was reminded of the spiral shape of the fiddleheads and an idea was born.

I was signed up for Cambria Pines Rug Camp the following June and decided that Diane Stoffel would be the perfect teacher to help me develop my fiddleheads. I became enamored with velvet by seeing all the fun Gail Dufresne was having and wanted to try my hand at it. I thought the whimsical shape of the uncurling ferns would be a perfect place to use the combination of wool and velvet.

For the design, I started with two inspirations. The first was a framed dried botanical arrangement that my mom had given me years ago, featuring fiddleheads along with other Vermont flora. I also looked on the internet at ferns in all their stages of growth. My first design was complex, with lots of little leaflets and details. I soon realized that the pattern would have to be five feet square in order to fit in all that detail, so I started to simplify. I ended up with a bouquet of different sized ferns at various stages of growth.

Once my design was ready, I needed a color plan. Blue is my favorite color and I use lots of it in my rugs, so my first rule for this piece was no blue! I used many hues of green and then I added raspberry, warm yellow, orange, red, and purple to the mix. Every time I leaned toward blue I stopped myself. However, my love for blue did win in the end with the background color.

Hooking with velvet is wonderful because of its rich, soft feel and the shine and texture it adds. I hand-cut all the velvet, cutting each strip about 3⁄4" wide. In the smallest of the fiddleheads, I cut the velvet narrower, to approximately 1⁄2" wide. Velvet can be cut quite narrow, but I wanted a bumpy texture, so I cut the velvet in wider strips to get that wrinkly look. Velvet can be cut using a rotary cutter with a mat, or you can cut it using a Townsend/Bee Line cutter. I recommend that you place the velvet with the fuzzy side down when using the Townsend/Bee Line. Velvet has a lot of lint, so cut the velvet then shake the strips outside to remove the lint.

For my fiddleheads, I used many different types of velvet. I buy velvet and over-dye it, and I also have a large collection of various velvets that my mother gave me. Some velvets have a higher percentage of silk and others have lots of cotton or rayon. The silkier velvets are my favorite, as they are softer than the cotton velvets and are easier to pull through linen backing. I buy white 18% silk velvet from Dharma Trading (www.dharmatrading.com) and I overdye it using fiber reactive dyes to get rich dark colors. I find that when I use the wool dyes I get lighter, more pastel colors because the silk (only 18%) is the part of the material that actually takes up the acid dye while the rest of the fabric resists the dye.

I started hooking in the center, outlining the little compartments, or stems, with a #4 cut in wool. I then hooked the velvet into the little areas I had enclosed. As the stems became thicker areas, and not just lines, I used a wider cut of wool. I find it easier to hook the velvet when the area that I am filling in with velvet is already surrounded by a row of hooking. In the largest of the fiddleheads, I used a dark raspberry wool to contrast against the lighter green velvets. As the stems got larger than just a line, I switched to a bright green to contrast against the pink and wine colors of the velvets I used for the rest of the fern.

The next piece of the puzzle was what to use for the background. I settled on a dark mottled blue-green with flecks of red and yellow. I also chose to hook in a spiral direction, mimicking the wonderful shape of the ferns. The circular shape of the background hooking enhances the design and adds to the whimsy.

A smaller version of this design is included as a free pattern in this issue and measures 14" square. I show you the smaller pattern hooked with a light pink background, hooked in a circular fashion.  
Fiddleheads
Fiddleheads, ©2016, Brigitta Phy. Enlarge by 200% for a finished piece of approximately 14" x 14". For personal use only. 

Start hooking in the center of the frond.

The fronds are hooked. Now the question is what to do about the background?

The fiddlehead shapes were so much fun to hook. Lots of colors and many textures add interest and surprise.

I used lots of colors in these fern leafs, from dark to light and dull to bright.
Brigitta Phy is a fourth-generation rug hooker and is an accredited McGown teacher. Her work has been published in Rug Hooking magazine and in Celebration XXIII. She owns Green Valley Rug Hooking, is a member of the Wine Country Rug Hookers, and is the current secretary of ATHA. www.greenvalleyrughooking.com
YOUR RECENTLY VIEWED ARTICLES
Free tutorials, expert tips, exclusive partner offers, and more straight to your inbox!