Fish Gotta Swim
Rug hookers gotta love Charles Houska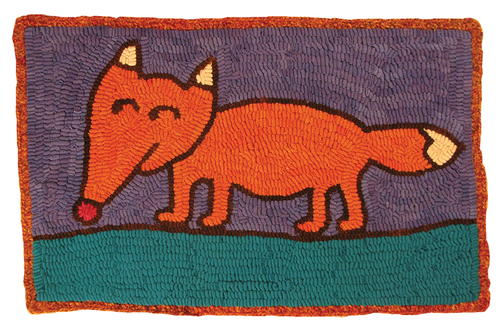 Photography by Nola Heidbreder
Nola's Fox, 18" x 24", #9-cut wool on linen. Designed and hooked by Nola Heidbreder, St. Louis, Missouri, 2015.

"I have designed a lot of fox mats over the years," Nola said. "My designs are usually pretty primitive. I wanted to try to do this design in Houska style with the bold outline and colors that were inspired by Charlie's work and the Houska dye book."

It's colorful. It's whimsical. It brings a smile. And it's no wonder St. Louis rug hookers fell in love with the lighthearted art of Charles Houska. The collaboration between a St. Louis art gallery and a rug-hooking studio had marvelous results. Six of Houska's paintings were made available for adaptation, and many original designs were inspired by "Charlie's" work. An art show at his Central West End gallery exhibited Houska paintings and wool adaptations, hung side by side. It all started with a bright idea from Jen Goley, Houska's gallery director and assistant, who has been hooking rugs for 18 years.

"This show began with my desire to do something in my medium, rug hooking, for Charlie's 50th birthday," Jen said. "I felt that his work lends itself to interpretation by rug hookers," she said. "When Nola (Heidbreder) and I brainstormed, and Charlie gave us his blessing, the idea bloomed into a wonderful opportunity for rug hookers to show their work in an important local gallery." 

All agreed to hold the show in the cold month of February 2016, when everyone can use a little good cheer.

Much like the adventurous fish in Houska's paintings, known for leaping out of their bowls, these rug hookers, led by the intrepid Nola, made the leap from primitive to pop art. Each hooker selected one of six Houska patterns, or they designed their own rugs using his motifs, colors, and style. The rug hookers enjoyed this challenge. 

Tamara Pavich has been hooking rugs since 2008. She loves searching the rug hooking world for interesting stories and designers. Her book of design ideas for rug hookers will be released in June 2017.

This article is from the January/February 2017 issue. For more information on our issues, check out our issues page.
YOUR RECENTLY VIEWED ARTICLES
Free tutorials, expert tips, exclusive partner offers, and more straight to your inbox!