It's Beginning to Look a Lot Like Christmas
Inspiration from the Things You Love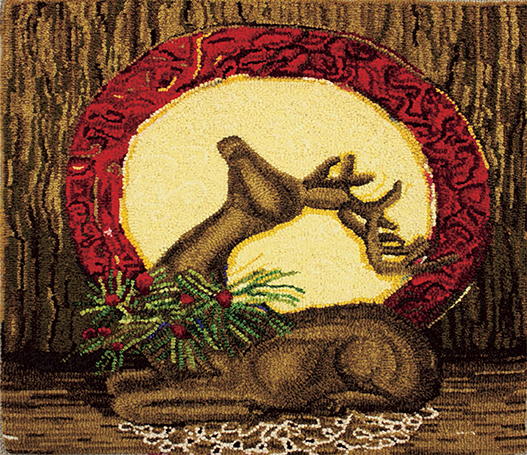 Resting Reindeer, 14 ¾" x 15", #3-cut wool on linen. Designed by Debbie Ballard and hooked by Cheryl Behan, Fort Frances, Ontario. 2018. DUANE HICKS

Adapted from a photo of a favorite Christmas decoration. You'll notice that there is no lace in the original photo. Cheryl felt it needed "a little something" so she added a bit of lace.

There is something about the warmth of wool. At Christmastime, when it's cold and blowing outside here in Northern Ontario, I love to be happy and content inside with the twinkle of lights and warmth of home.

Hooked pieces, by their very wooly nature, add texture and beauty to your Christmas decor. The minute I hang my hooked Santa, the room feels cozier. I have a wall hanging that I drape over the back of a big chair I inherited from my grandmother. She taught me to hook, so not only is a nice spot, it is very fitting. Just adding the deep rich red-and-green accent adds a bright spot to my dining room. Someday I will hook a chair pad for that chair . . . someday.

I am not a minimum person. I am a maximum person. So two hooked Christmas pieces is clearly not enough for me. I dream of holiday rugs all over my house. Where would I put them? I could replace the small rug in the hall with a Christmas themed mat, hook a small round pad to put under the little tree in the entry, a chair pad for my grandmother's chair, a pin for my coat.

The possibilities are endless—and that's the problem. When the choices are many, it's hard to know where to start. I started with things I already have and love.

There's something about the grace and beauty of reindeer that appeals to me. So definitely reindeer …  maybe for the small mat. Now, what about the small rug for the hall? Perhaps some of my cherished ornaments will inspire me. I could replace the hall mat with a Christmas mat for the month of December. I have several brass musical ornaments. Hmmm … I wonder what I could do with those. I also have jingle bells that I hang on the door to annoy my husband every time the door opens. Perhaps a hanging I could pop into a narrow space by a closet or a window.
YOUR RECENTLY VIEWED ARTICLES
Free tutorials, expert tips, exclusive partner offers, and more straight to your inbox!