Label Those Masterpieces!
Making fabric rug labels with your computer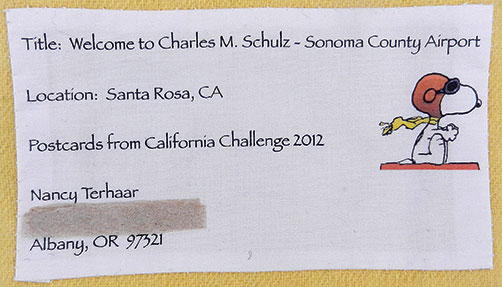 Welcome to Charles M. Schultz - Sonoma County Airport label made by Nancy Terhaar for her California postcard. 

Designing and printing fabric sheets using a computer and an inkjet printer is easier than you may think—and it's the perfect twenty-first-century way to document your rugs.

Adding labels to your finished rug hookings is recommended for both historical reasons and to increase their worth. Labels attached directly to the back of a rug confirm the time, place, and person responsible for its creation. This is your rug's provenance. Personalized labels make your rugs more meaningful when they are given away. Additionally, your rugs can be identified if they end up in an antique store at some future date.

I had mixed feelings about computer labels because I'm all about handmade. However, I do like the way computer labels look, and now it's so easy to add graphics and color. 

This article is from the January/February 2013 issue. For more information on our issues, check out our issues page.
YOUR RECENTLY VIEWED ARTICLES
Free tutorials, expert tips, exclusive partner offers, and more straight to your inbox!