Razzle Dazzle Tree
Vintage jewelry reimagined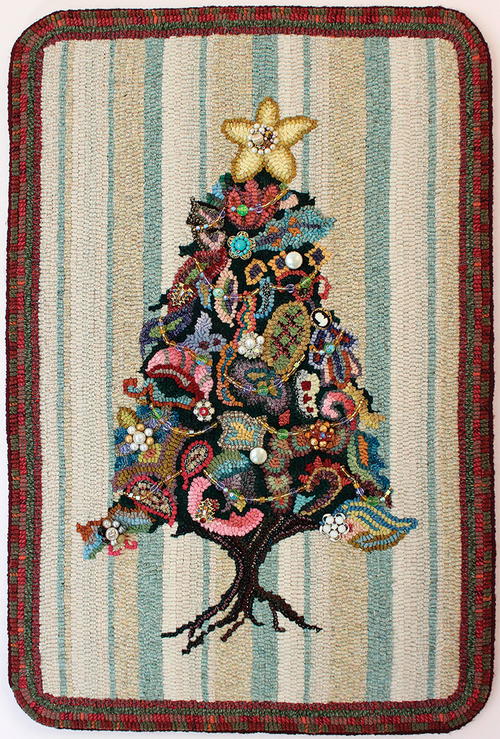 Sazerac Tree, 171/2" x 26", #3- to 8-cut as-is, dyed, new, and vintage wool, costume jewelry, and glass bead embellishments. Designed by Southern Shores Designs; hooked and embellished by Sharon H. Oppegard, Greenwood Village, Colorado, 2014.

What goes into the making of a piece of hooked art? The creative mind of a pattern designer, color planning skills, beautiful materials, and hours of pulling loops. From my experience, the process often includes a large portion of serendipity as well.

In the summer of 2011, I visited a friend in Fort Worth. She showed me her garden art made from vintage glass. I fell in love with the towers and she taught me how to make them. My search for materials took me to multiple garage and estate sales. A card table on a driveway beckoned. No usable glassware, but there was a fabulous collection of jewelry from the '50s and '60s. I purchased a number of earring sets and, over the years, collected even more. I had only a vague thought of incorporating them into a rug hooking project one day. The jewels found a home . . . inside a jelly jar in the wool closet.

The following autumn I attended the ATHA Biennial in Pennsylvania. I purchased a pattern. (Okay, possibly it was three patterns, but who's counting?) Upon my return home, one pattern, Sazerac Tree, was relegated to the depths of my wool closet, as other various projects proceeded to the front of my long queue.

For four years I avoided Sazerac Tree. The mere thought of wool strips smaller than a #6 cut makes me nervous. My personal home decorating style leans toward simple and uncluttered. So what drew me to this very busy, detailed pattern? I have an affinity for the bizarre and unique. I love vintage, and the word "kitschy" might be thrown in as well. This pattern reminded me of the 1960s framed Christmas tree art made from costume jewelry, usually on a black velvet backing. I decided it was finally time for the pattern to see the light of day.

It wasn't until I started the pattern that the light bulb came on. Those vintage earrings would be perfect to give it that '60s look I love.

This article is from the November/December 2015 issue. For more information on our issue, check out our issue page.
YOUR RECENTLY VIEWED ARTICLES
Free tutorials, expert tips, exclusive partner offers, and more straight to your inbox!