Rug Hooking in Penzance
An English rug hooker tells her story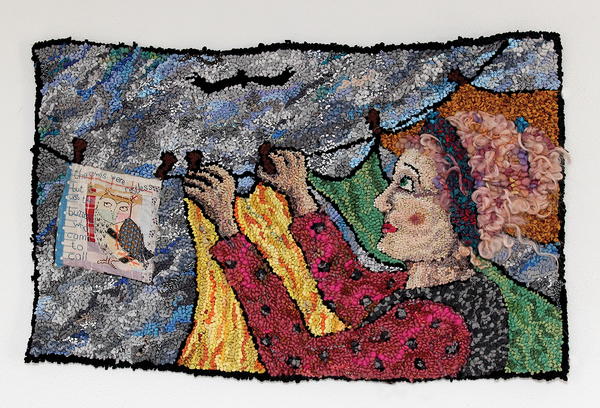 Hanging Out the Wash, The Day the Buzzard Came, 36" x 26". Recycled fabrics and sheep fleece on hessian backing. Designed and hooked by Diane Cox, Penzance, England. This represents what happened the day my father died. I did the stitched piece first and later decided to put it in a rug.

I was brought up in North Yorkshire, England, in the 1950s, and my early years were filled with textiles. All the females around me were sewers and knitters. "Waste not, want not" was still a maxim in those days. Garments were taken apart and made into something else, perhaps coats for the children, or perhaps we made one dress from two worn ones. It was fascinating to me, as a child, observing all these busy fingers deftly creating wonderful new clothes from those seemingly worn out garments.

I learned all these things at a very early age, and I am so glad I did. Although l never made a rug in those days, l watched my mother and grandmothers make them. Stone floors and linoleum were cold—our hooked and prodded rugs were both practical and, more importantly, warm and cozy. It always seemed to me that making rugs was a soothing occupation, a stolen time when women could chat and not have to think too much.

Yet it was much more than that. My father would often say: "Little girls should be seen and not heard." l didn't agree with that, but I obeyed, as we did in those days. Sitting quietly in a corner, however, making myself as invisible as possible, I observed the women's expressions and gestures while I listened intently to snippets of tales full of intrigue and excitement. I was enthralled by these conversations about real life happenings, tragedies and triumphs, mysteries and secrets. The seeds of my obsession with hooking women probably began then, but it was only in later life that l had the time to act on it.

Researching the female line in my family tree added to my fascination. The unsung lives of ordinary women, so many untold stories—women's lives over the centuries fascinate me because so many in the past did not have voices. So much was not recorded, deemed of lesser importance than the lives of men.

Many of my ancestors had worked in the Lancashire cotton mills. It was a hard life, and I desperately wanted to give these women voices, to tell their stories, and also to tell some of my own.

Walking the dogs through the daffodil fields behind my cottage in Penzance, Cornwall, is when l work on ideas and memories, mulling them over until l have a clear picture in my mind. This can take weeks if not months . . . creativity cannot be rushed.
YOUR RECENTLY VIEWED ARTICLES
Free tutorials, expert tips, exclusive partner offers, and more straight to your inbox!