Geometric Doodling
Shading in Fine-Cut Geometrics: Part Two of a Two-Part Story
Updated June 23, 2020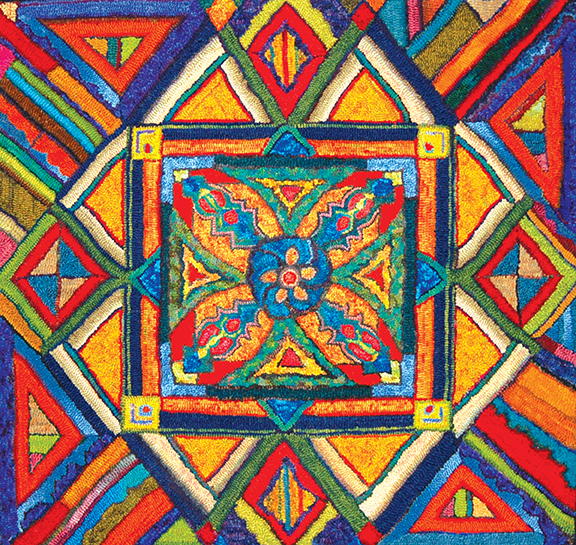 Circles, Squared, Geo, 27" x 25", #3- and 4-cut wool on linen. Adapted from a favorite scarf (purchased many years ago), and hooked by Sandra L. Brown, Mansfield, Ohio, 2016.

As Pearl McGown always recommended, we start hooking any geometric shape from the outside in, capturing that outline first instead of trying to find it later after we've filled the space. This helps hold its shape and allows us to hook to the edge. In the case of shaded geometric motifs, this is an important first step.

Shading for Circle, Square, Geo was done in rows, much the way "mock shading" for crewel work is done. Instead of fingering the values into each other to achieve shading as we do in florals, the rows of hooking are simply lined up next to each other. The shapes are purposely not rigid or mathematically exact like most geometrics, and the outlines are often double thickness in places. The lining up of rows from dark to light within each motif, with the center being the lightest, still results in shaded edges overall. Each motif is separated by a very dark line, then slightly lighter, then a dark value of the same color contained in the motif. This gives the piece a slightly vintage and three-dimensional look and more interest than if each motif was not shaded.

In motifs where the meandering path hooking was used, there is still a line of color at the edge of the motif before hitting the dark border line. Areas filled with textured wool are more difficult to shade (only because textures are more difficult to cut narrowly as they tend to shred).  


EXACTLY HOW DO WE SHADE AN EDGE?
Generally, we think of shading as involving a few values next to each other on a gray scale, all of the same color. But another way to accomplish a shaded edge is using closely scaled values but not necessarily of the same color. Starting with black, one can move to eggplant purple, then a medium dark brown, then perhaps a medium value of the motif's color and still create the effect of a nicely shaded edging. 

This technique is an excellent way to use up leftover wool strips from previous projects, and the hooker simply lines them up against each other to see which ones will work to create the smoothly shaded effect. Keep in mind "viewing distance," which allows us to play with color so long as we're adhering to steps in value. The viewer will see them as blended and nicely shaded, even though up close they might be able to see they are not all different values of the same color. 
 
WOOLS
There's a tipping point when hooking with high-intensity wools. If you use only a few high-intensity wools, they will stand out too prominently against duller wools; but an abundance of high-intensity wools will be balanced against each other. We strive for quieter, duller places to rest the eye, but basically the commitment to high-intensity color plans requires a full immersion approach. Keep in mind that with shading, the intensities will be tempered by the move toward darker values, even in the same high-intensity color—i.e., rich red gets less intense as it gets darker. 

Finally, a more intense version of any particular wool can be used as highlights instead of the lightest value of that color—which is to say that a highlight can be created by either a lighter value or a higher intensity wool. Both the lighter value and the more intense color will have the same effect of advancing toward the viewer's eye. 

Textures may be thready and tedious to hook, but they have the advantage of not showing loops as prominently as smooth wools. There are always places in any rug where the softer effect of no-loop hooking is desirable, especially with geometrics. The contrast between smooth and textured wools, even when using the same color, adds interest and breaks the monotony of single type wool surface design. 

Another way to add texture is to use spot-dyed wools and meandering path hooking while zoning each color as it comes up next on your hook.  (See the diagram on the next page.)

Darks were a range of colors, with very few being black, even though they "read" as black. Dark purple, red-brown, and deep teal were used instead of black, with the wider bands being three different navy wools, the lightest a doeskin wool with sheen that helped give the darker bands a luminous quality. It's important to remember how dark your darks must be to hold up against high intensity colors—most value #8s in typical swatches are not dark enough. That last value may need twice the amount of dye, or even a little black, to achieve a dark enough value. Since the human eye has difficulty focusing on purple (which is why it is typically used in painting shadows), the rug hooker can also use dark purple/eggplant wool to show depth. 

"Light" versus "dark" in this type of geometric is intentionally strong and pronounced, giving it the high contrast and shape definition I wanted. The center square has more detail than the outer border, and more interest. And the bold dark lines surrounding it help contain it against the transverse lines of the next larger square. 

WARM versus COOL AS A DESIGN ELEMENT
We know that colors on the warm side of the color wheel tend to come forward and cool colors tend to recede to the viewer's eye. The interplay of warm versus cool will affect the overall design of any hooked piece, so choosing which motifs to render in warm tones will help them to be more pronounced than those done in cooler colors. Warm, light, and intense colors will be most pronounced to the human eye (which is why school buses are yellow). 
 
PAIRED DOMINANT COLORS
Another color trick I find useful in rug hooking is using two versions of the dominant colors instead of just one. Instead of just one tomato red, use a red that also goes toward the blue; instead of just one blue, throw in another blue that tends toward the other direction on the color wheel; instead of just olive green, use jade green as well. I can usually date my earlier rugs by when I started using these paired colors—the later rugs are more interesting than one red, one blue, one yellow, or one green, even when I might have been using different values of those same colors. 
 
WHAT CUT?
Deciding whether to use a #3 or #4 cut has to do with the weave of the wool and the value (lightness or darkness) of the wool. Tighter wool can be cut more narrowly, and darker wools can be cut a bit larger since the loops don't show as easily. Often when doing backgrounds to fine-cut florals, the hooker will do the individual flowers in #3 to achieve detail and shading, but hook the darker background in #4, because, essentially, the loops don't show as much and wider strips hook faster. 

INTENSITY TRUMPS VALUE
Remember that intense colors trump value in well-lit situations, but as soon as the light begins to dim, the intensities will be lost and value will have more influence on what we see.
Formulas
The most muted wool in Circles, Squared, Geo was Carolyn Clemson's "Jewel Tones" transitional swatch 57, which goes from pink to mouse gray. And although her dye system is rich, it is more muted than some of the other dye systems, which I used for the high intensity golds, reds, chartreuse, jade green, and blue. Many of those were dyes directly from the jar, sometimes dyed over colored wool. 
PRO Chem #255 Brick over Dorr "Corn" yellow
PRO Chem #401 Colonial Blue over Dorr Medium Blue
PRO Chem #716 Moss & #719 Grasshopper over Dorr Mint
PRO Chem #712 Juniper over Woolrich Light Green
Karen Schellinger KS4 and KS Oakmont, both dyed over Woolrich White
Spot-dyed wools were often made by using a formula, but by preparing each dye with its own separate cup of boiling water and using it to spot the wool. Blending in this case would happen in the eye of the beholder and add movement to individual motifs.  
Meandering path
Colors in spot-dye strips are "zoned" by keeping loops circling until color disappears.
 

Detail of one of the dark triple lines in the rug.

Light vs. dark, warm vs.cool.
Sandra L. Brown is a McGown certified teacher who has been hooking for 35 years. Her rugs have been featured six times in Celebration of Hand-Hooked Rugs and include the Readers' Choice Award for House at Night in 2001, plus two "Best of Show" awards at Sauder Village. She gives workshops around the country, helping fellow hookers get to the place they want to be in their finished pieces. Check out Part 1 of this series in the September/October 2017 issue of RHM.
YOUR RECENTLY VIEWED ARTICLES
Free tutorials, expert tips, exclusive partner offers, and more straight to your inbox!