Geometric Doodling
Shading in Fine-Cut Geometrics: Part Two of a Two-Part Story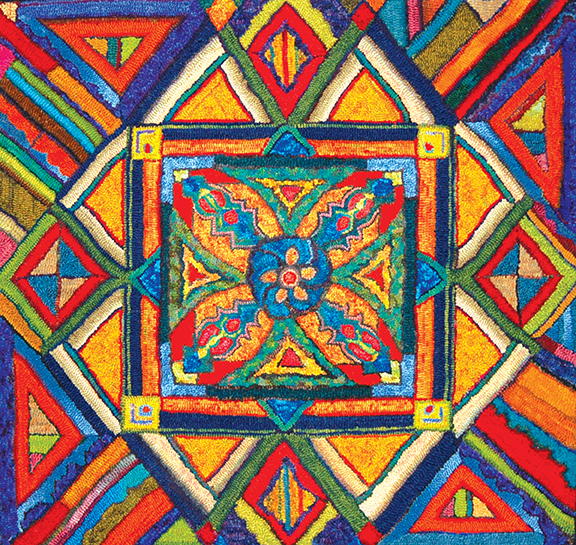 Circles, Squared, Geo, 27" x 25", #3- and 4-cut wool on linen. Adapted from a favorite scarf (purchased many years ago), and hooked by Sandra L. Brown, Mansfield, Ohio, 2016.

As Pearl McGown always recommended, we start hooking any geometric shape from the outside in, capturing that outline first instead of trying to find it later after we've filled the space. This helps hold its shape and allows us to hook to the edge. In the case of shaded geometric motifs, this is an important first step.

Shading for Circle, Square, Geo was done in rows, much the way "mock shading" for crewel work is done. Instead of fingering the values into each other to achieve shading as we do in florals, the rows of hooking are simply lined up next to each other. The shapes are purposely not rigid or mathematically exact like most geometrics, and the outlines are often double thickness in places. The lining up of rows from dark to light within each motif, with the center being the lightest, still results in shaded edges overall. Each motif is separated by a very dark line, then slightly lighter, then a dark value of the same color contained in the motif. This gives the piece a slightly vintage and three-dimensional look and more interest than if each motif was not shaded.

In motifs where the meandering path hooking was used, there is still a line of color at the edge of the motif before hitting the dark border line. Areas filled with textured wool are more difficult to shade (only because textures are more difficult to cut narrowly as they tend to shred).  
YOUR RECENTLY VIEWED ARTICLES
Free tutorials, expert tips, exclusive partner offers, and more straight to your inbox!