2021 RELEASE DATES
| | |
| --- | --- |
| Rug Hooking Magazine Book Schedule | Mail Date* |
| Mastering the Art of Punch Needle | 1/17/21 |
| Foundation Magic | 5/19/21 |
| Celebration 31 | 8/16/21 |
| The Art of Hooked Rug Landscapes | 10/8/21 |
*Note: Shipping times vary depending on location. Please allow several weeks for books to arrive.
2022 RELEASE DATES
| | |
| --- | --- |
| Rug Hooking Magazine Book Schedule | Mail Date* |
| Winter Book - Coming Soon | 1/17/22 |
| Spring Book - Coming Soon | 5/18/22 |
| Celebration 32 | 8/14/22 |
| Fall Book - Coming Soon | 10/9/22 |
Current Book Club Release - Out Now!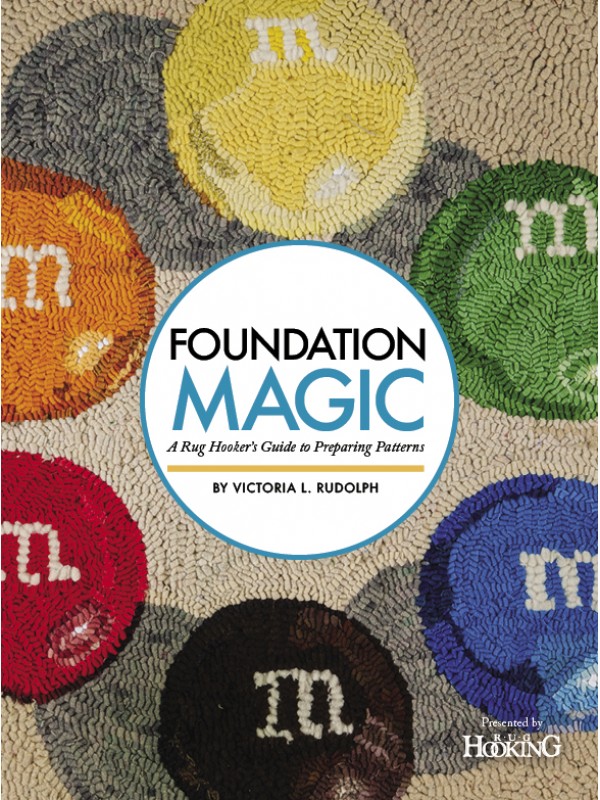 Foundation Magic: A Rug Hooker's Guide to Preparing Patterns
Join author and artist Victoria Rudolph as she demystifies the sometimes-tricky art of transferring a design to linen and other rug hooking foundations. Learn the differences between the types of backings. Explore the tools to use, how to piece cloth together for a larger rug, and how to create your own light box. Throughout, Victoria shares her secrets of inspiration and how she gets from idea to finished hooked piece. Illustrated by some of her recent projects, such as creating a series or hooking a coat of arms, you will learn how this artist/rug hooker has built up her body of work. And, as an illustration of her process, she shows us her gallery of hooked confections: candy apples, wedding cakes, and donuts!
FOUNDATION MAGIC is a cornucopia of ideas and inspiration for your bookshelf . . . and It all starts with a good foundation!
When you join the book club today, we will ship you our latest book for only $21.95 USD... that's 21% off the retail price ($6 in savings!).

Past Book Club Releases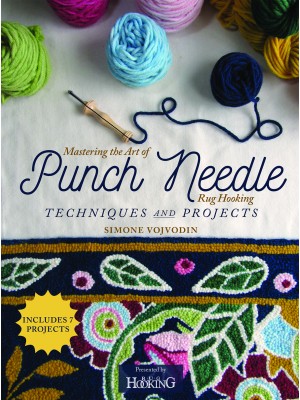 Mastering the Art of Punch Needle Rug Hooking: Techniques and Projects
Do you want to learn how to punch rugs? This is the book for you! Author Simone Vojvodin leads you through the basics—What do I need to know? What materials do I need? How do I get ready to start punching?—to more advanced and detailed techniques. Learn how to estimate yarn amounts, which backing is the best to use, how to move your project around on the frame. You will find expert instructions on punching words, sculpting, using wool fabric strips, fancy stitches, and much more.
More than an instruction book, you will find six of Simone's charming projects, covering every level of skill, from beginner to advanced. Written as if you have a friendly instructor by your side, the projects are designed to lead you through different key learning experiences and to help you progress from complete beginner to more advanced puncher.
Add this to your rug hooking/rug punching bookshelf for a reference book you will return to, time and time again.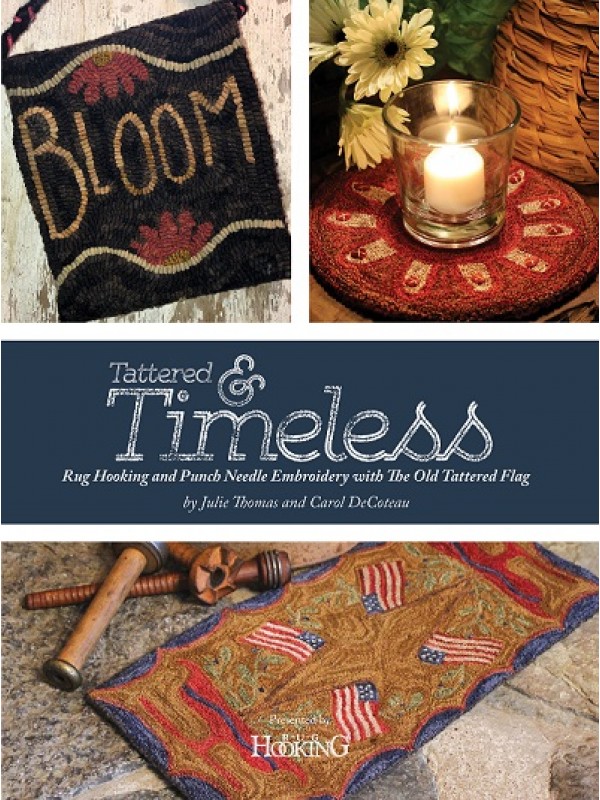 TATTERED & TIMELESS: Rug Hooking and Punch Needle Embroidery with The Old Tattered Flag
Flags and flowers, gardens and pumpkins—all speak of tradition, family, and home. Mother-and-daughter team Carol DeCoteau and Julie Thomas from The Old Tattered Flag designed a collection of rug hooking and punch needle embroidery patterns for you. The 14 projects in these pages are presented to you as seven hooked rug designs and seven punch needle designs and allow you to go big or go small. Instructions on how to make them help get you started. These lovely pieces, in both miniature embroidery punch needle and full-sized rug hooking, add a rustic country appeal to any home. You will be delighted with the wide range of projects in both techniques.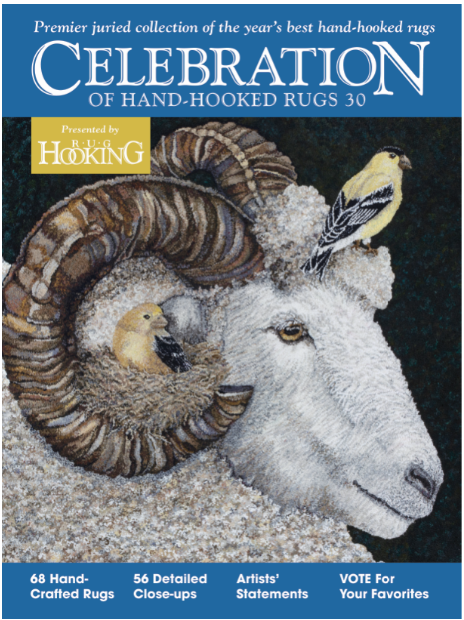 Celebration of Hand-Hooked Rugs 30
The 30th annual edition of Rug Hooking magazine's annual juried competition, showcasing the best of the best. Each winning rug is presented as a two-page spread that includes a photo of the entire rug, a close-up of compelling details, and illuminating insights from the artist and the judges.
Celebration is eagerly awaited each year as a valuable resource for veteran and new rug hookers. It is an important showcase for rug hooking artists themselves and, increasingly, Celebration serves as a rich source of inspiration for all who are interested in fiber arts.
Upcoming Book Club Releases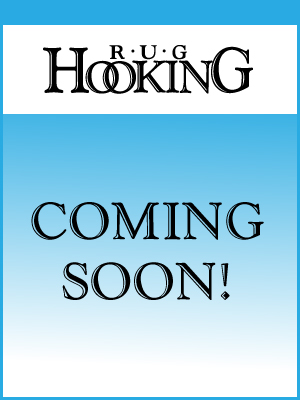 Celebration 31 - Publishing August 2021


Details coming soon!