2020 RELEASE DATES
| | |
| --- | --- |
| Rug Hooking Magazine Book Schedule | Mail Date* |
| Magnificent Hooked Rugs | 1/17/20 |
| Beautiful Wool: in the Dye Kitchen with Lisanne Miller | 5/18/20 |
| Celebration 30 | 8/14/20 |
| Tattered and Timeless Rugs | 10/9/20 |
*Note: Shipping times vary depending on location. Please allow several weeks for books to arrive.
2021 RELEASE DATES
| | |
| --- | --- |
| Rug Hooking Magazine Book Schedule | Mail Date* |
| Winter Book - Coming Soon | 1/17/21 |
| Spring Book - Coming Soon | 5/18/21 |
| Celebration 31 | 8/14/21 |
| Fall Book - Coming Soon | 10/9/21 |
Current Book Club Release - Out Now!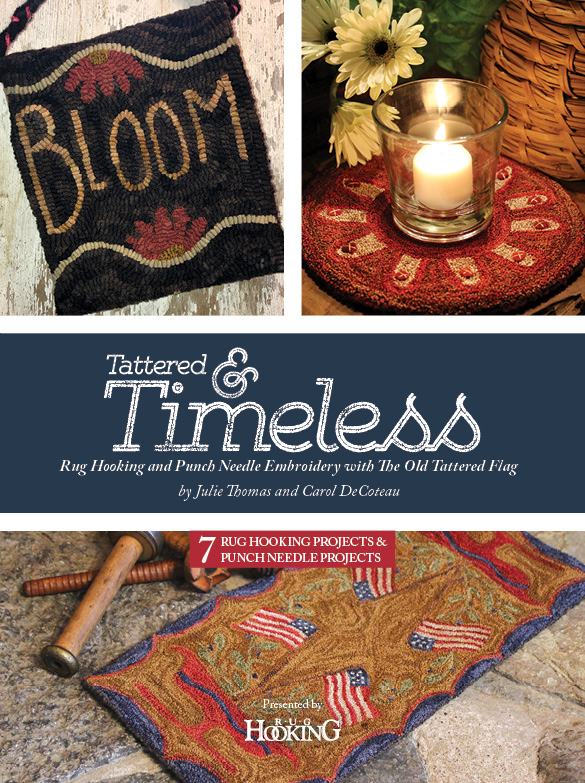 4th Annual Book

Tattered and Timeless: - Out now!
RHM's latest release features seven hooked rug designs and punch needle designs that will add rustic country appeal to any décor, plus essentials for rug hooking, punch needle embroidery, and clever finishing techniques.
When you join the book club today, we will ship you our latest book, Tattered and Timeless for only $21.95 USD... that's 21% off the retail price ($6 in savings!).
Plus, as a book club member you will...
Be among the first people to receive new books before they are available anywhere else!

Reserve your copy of the exclusive Celebration of Hand-Hooked Rugs book each year.

Supplies are limited for this collector's item, so joining the Book Club is the best way to ensure you get your copy!

Book Club Members receive GUARANTEED discounts on our latest books.

Receive 10% savings on all purchases in our online store.

Your Book Club membership includes our exclusive eNewsletter that offers valuable information, including sneak peeks of books!

Past Book Club Releases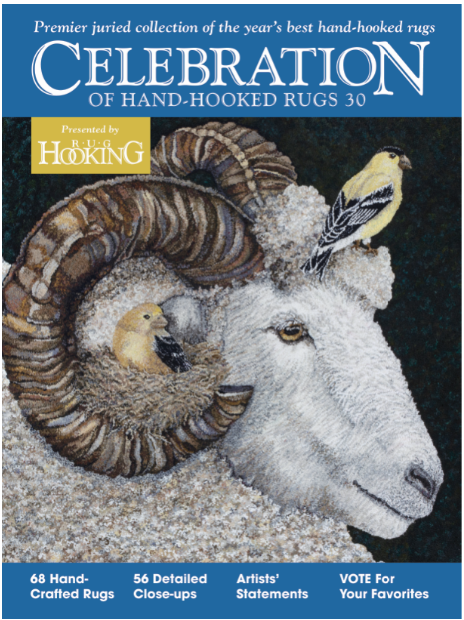 3rd Annual Book
Celebration 30 - Published August 2020
The 30th annual edition of Rug Hooking magazine's annual juried competition, showcasing the best of the best. Each winning rug is presented as a two-page spread that includes a photo of the entire rug, a close-up of compelling details, and illuminating insights from the artist and the judges.
Celebration is eagerly awaited each year as a valuable resource for veteran and new rug hookers. It is an important showcase for rug hooking artists themselves and, increasingly, Celebration serves as a rich source of inspiration for all who are interested in fiber arts.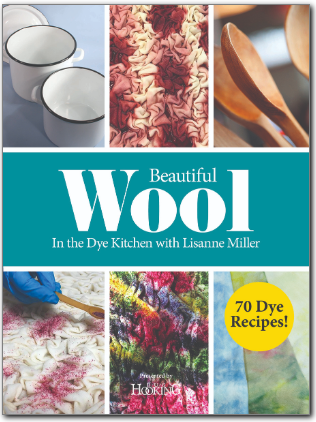 2nd Annual Book
Beautiful Wool: In the Dye Kitchen with Lisanne Miller - Published May 2020
Learn how to dye your own wool with Lisanne Miller, owner of W. Cushing & Co. Learn tips and tricks, plus get 70 dye recipes!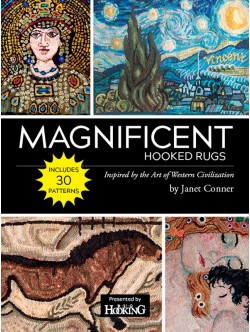 1st Annual Book
Magnificent Hooked Rugs - published January 2020
From prehistoric art to the Renaissance to art deco to the art exhibits of today, inspiration for fiber art abounds in galleries and museums. Author Janet Conner, a fiber artist herself, takes us through the annals of Western art and shows us how to take inspiration from the masters and make our own rug hooked masterpieces. She shows us more than 100 hooked pieces based on or inspired by the great artists and gives us the confidence to look at art and paintings with new eyes, eyes ready to interpret well-known art in wool.
Enjoy the patterns designed by Janet, available for you to enlarge and hook yourself. More than 30 patterns based on her study of the giants of art history are sure to entice.
Come on along for the whirlwind tour through the history of Western art—you might just find a masterpiece calling you to your hook and frame!
Upcoming Book Club Releases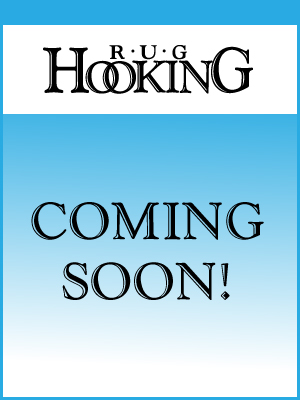 1st Annual Book
Introduction to Punch Needle - Publishing January 2021


Details coming soon!