Directional Hooking or Random Hooking?
Dear Beginning Rug Hooker
By:
Michelle Sirois-Silver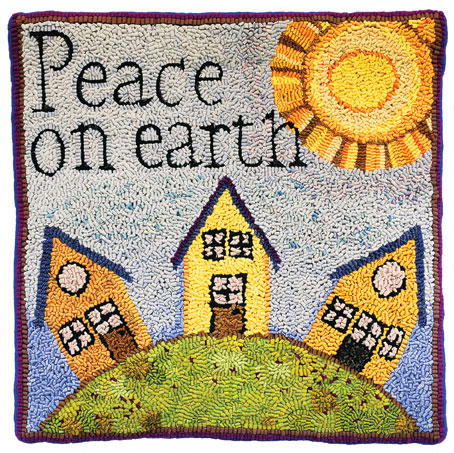 Peace on earth, 24"x 24", #8-cut wool and pantyhose on linen. Designed and hooked by Michelle Sirois-Silver​, Vancouver, Canada, 2010.

Directional and Random Hooking

Both directional and random hooking should be used when designing a rug. Each has its specific uses.

Directional hooking forms a continuous line of loops hooked in straight or curved rows and is used to outline elements to help them hold their shape. It can also be used to fill elements, hook backgrounds, and create text. It can direct the eye from one area of a design to another and can create a sense of motion or tension. For an example of directional hooking, note how the crescent shape of the earth is outlined with a directional line to separate and define its shape. The curved directional loops in the fill form a series of amoeba-like shapes that create visual contrast and interest.

Random hooking involves forming alternating twists on loops and following a zig-zag path to create the appearance of randomness. I love using this hooking technique to create texture and to seamlessly blend colors and values. The center of the sun is an example of random hooking that demonstrates how it is used to blend the different yellow-oranges.

This article is from the September/October 2010 issue. For more information on our issues, check out our issues page.
YOUR RECENTLY VIEWED ARTICLES
Free tutorials, expert tips, exclusive partner offers, and more straight to your inbox!