Tackling Tessellations
Dear Beginning Rug Hooker: Repeated motifs for fabulous rugs
By:
Designs by Linda Pietz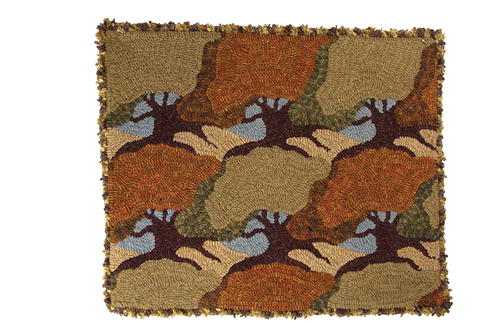 Photography by Paul Heidbreder
Into the Woods, 22" x 27", #9-cut wool on linen. Designed by Linda Pietz and hooked by Nola A. Heidbreder, St. Louis, Missouri, 2015.

It was love at first sight as I leisurely meandered through an off-campus book store. The book, The Graphic Work of M.C. Escher, caught my eye. Thumbing through its pages, I knew this would be a lifelong love affair. After quickly paying for my find, I ran home to pore over its pages and was especially captivated by the repeated designs of interlocking wildlife known as tessellations. Tessellations are defined as repeating shapes or patterns that cover a surface without gaps or overlaps. I marveled at how Escher might have created these designs that seemed so complex and yet so simple. It would be many years before I learned answers to my questions.

Perhaps the idea of tessellations is a new concept for you, but tessellations are more common than you might realize. Do you have a tiled kitchen or bathroom? Not as lively as an Escher tessellation, nonetheless, those squares fitting together form a tessellation. Perhaps the quilt on your bed has been created by repeated shapes such as the hexagons sewn together for the pattern known as Grandmother's Flower Garden. Tessellations are all around us.

Tessellations in art go back more than 6,000 years in Mesopotamia (present day Iraq), where they were fashioned using small pebbles set in plaster. This evolved into hand-painted tiles in repeating patterns with no background. The Romans also knew about tessellations. In fact, the word comes from the Latin word, tessella, a small square tile used to form the beautiful Roman mosaics.

Linda Pietz, a St. Louis native, grew up in a family of artists, which only made it a certainty that she would follow in the footsteps of her relatives. What sets her apart is her love of math and how it can be incorporated into her designs. Linda designs rug hooking patterns for her sister Nola Heidbreder, and they have co-authored several books. Patterns for Into the Woods and Elephant Parade are available at www.nolahooks.com.

This article excerpt is from the September/October 2016 issue. For more information on our issues, check out our issues page.
YOUR RECENTLY VIEWED ARTICLES
Free tutorials, expert tips, exclusive partner offers, and more straight to your inbox!