Inspiration from Southern Italy
...and some simple instructions for getting started
By:
Green Mountain Hooked Rugs
Updated September 27, 2019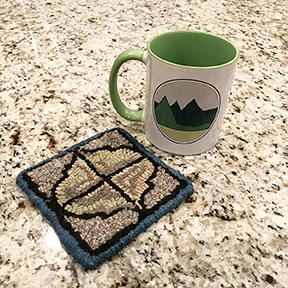 Create a simple mug rug for your cup of coffee
Last year I spent two weeks traveling with my mom around Italy. As you may know, Italy is the art mecca of the world—the galleries and museums are overflowing with great art, providing a plethora of inspiration. I took my sketch book along and captured everything I was seeing, feeling (eating) through sketches. When I returned home I revisited my sketches and began to research them and transform them into patterns.

This specific pattern can be found all over the world but is actually considered a repeating Moroccan pattern. It is a simple geometric design you can use to create a large rug, a pillow, or a coaster set. The beauty of the geometric is that you can color plan it any which way you please. The interlocking design allows you to size it however you like, running the design all the way to the edge.
Materials List
Backing at least 15" x 12" to create 2 mug rugs
Sharpie
Serger, duct tape, or glue
Approximately 20 strips of wool in any size cut
5–6 yards of yarn
Get Started:
Step 1. Getting started is the hardest part. As you may have realized, backing doesn't typically come pre-finished on the edges. You don't need to finish the edges to hook on the backing, but over time the edges will begin to fray if you don't. There are some really easy ways to stop the fraying. The first is to serge the outsides (if you own a serger). If you don't own a serger, this second way is one that the Vermonters in the group can get on board with—duct tape! (Yup, duct tape fixes most problems.) The third easy solution is glue. You can take Elmer's glue or a fabric glue and run a line around the outside of your pattern, then smear it with your finger.

Step 2. Make your border. Start with a pencil first because it's easy to accidentally skip a row. To get the line straight on the grain of the backing, drag your pencil between two strands of linen. Then use your permanent marker to go back over that line to darken it, once you are satisfied that it is straight.

Step 3. Trace your design. You can use a window, a glass table, or a light table. If you don't have a light table or glass table at home, a window works fine. Tape your pattern to the window first, then tape the backing over the pattern.

Step 4. Selecting your wool. How much wool will you need? Decide what size cut you are hooking in, then fold your fabric over itself that many times—the area of the folded piece will tell you about how much area your fabric will cover. If you're working in a #7- or 8-cut, you can usually get away with folding it over itself only six times. This is not an exact science, but this method will at least give you a good place to start.

Step 5. Hook your design.
 

Step 6. Finishing your piece. Cut a 1⁄2" border around the edges of your project. Roll the edge of the backing tightly toward the last rows of your hooking on the top! It's important to roll the edge up toward your project instead of underneath so it lies flat when you are finished. Then take your yarn and a needle and whip stitch the edge, the entire way around.

Enjoy your new mug rug or coaster—maybe you will make a matched set!
Green Mountain Hooked Rugs is a five-generation, family-owned business. Their retail store is in Montpelier, Vermont, where they sell a wide variety of rug hooking supplies, including bolt wool, hand-dyed wool, patterns, and equipment. They own and operate Green Mountain Rug School, an annual event in June. Come for the rug hooking, stay for the friendships!
YOUR RECENTLY VIEWED ARTICLES
Free tutorials, expert tips, exclusive partner offers, and more straight to your inbox!