Casserole Dyeing Revisited
From My Dye Pot: Everything old is new again.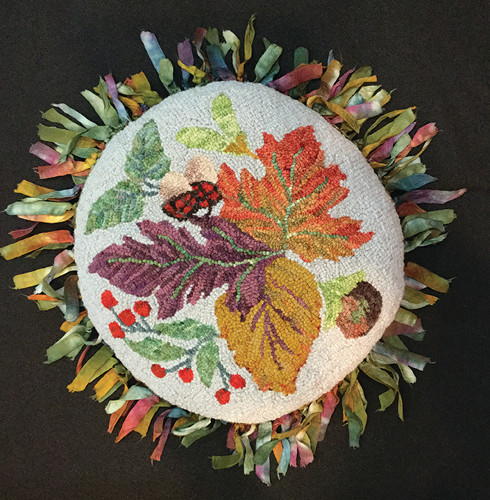 November, 13"  round, #3-cut hand-dyed wool and hand-dyed silk ribbon on linen. Designed by Jane McGown Flynn and hooked by Loretta Scena, 2000. This is my first hooked piece.

I first stepped into the home of Helen Connelly in April of 2000. I was mesmerized by the collection of hand-hooked rugs displayed on her floors, walls, and as pillows on her furniture. I had just recently been introduced to traditional rug hooking and was entranced with this exciting world of color, texture, and handmade beauty. I was also delighted that I had found a teacher to teach me how to make the "tapestries" that I was longing to learn to create.

My desire to create a woven tapestry led me to traditional rug hooking. But I couldn't find supplies or instructions on how to begin, and there weren't any teachers on Long Island. Even though rug hooking has grown since I started hooking, I have always felt that it was one of the fiber world's best kept secrets. Whether you stumble upon it or seek it out, you can't help but fall in love with it.

Over a cup of peppermint tea in Helen's kitchen, she explained the process of rug hooking from bolt to rug, as a small pile of wool simmered on the stove. "First you learn to hook, then you learn to dye," she said. She told me that the simmering pan of wool was casserole-dyed wool. I later learned that this method of dyeing was first presented by Pearl K. McGown in her Letter Service, written in May 1942. It was later adapted by Edna Fleming, who wrote up some lovely, easy-to-follow formulas; in 1965 Edna wrote a booklet called "One Hundred & One Formulas for Casserole Dyeing." 
YOUR RECENTLY VIEWED ARTICLES
Free tutorials, expert tips, exclusive partner offers, and more straight to your inbox!