Spots and Dips and Casseroles, Oh My!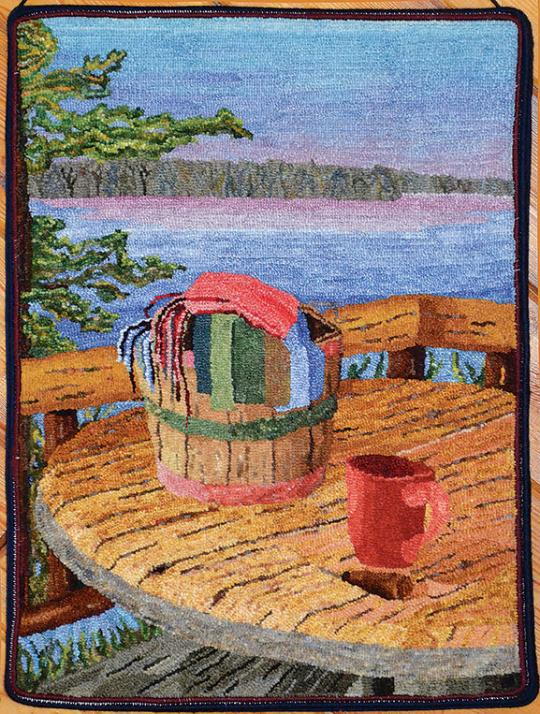 Spots and Dips and Casseroles
Rainy Lake Basket, 18" x 24", #3-cut wool on monk's cloth. Designed and hooked by Debbie Ballard, Fort Frances, Ontario, 2011.

I'm a big believer in getting the right person for the job, and I think the same thing goes for wool. Many wonderful and creative dye methods have been developed over the years to help us achieve great results with our hooking. The trick is to pick the right technique and the right wool to get the result you want.

Once you understand how to use a piece of wool dyed a certain way, it's easier to make good choices. I am a sucker for spot-dyed pieces. They can be used in so many places and come in handy no matter what you're hooking. Needless to say, my stash of spot-dyed wool is probably bigger than it should be. But I know I will use them somewhere down the road.
You may want beautifully shaded leaves but feel uncomfortable (or don't like) using a swatch or you don't know how to hook a leaf using a swatch. A piece of casserole-dyed wool will produce outstanding results even if you are a beginner.

A good dye course will expose you to all the different methods of dyeing. You'll know if dyeing is for you after a few days in the dye pot. Some people come away from a dyeing course full of enthusiasm and can't wait to get started on their own. Others finish a dye course knowing they'll be buying custom-dyed wool instead.

Whether you want to dye or buy dyed wool, knowing the basics of different dye methods will help you choose the right dyed wool for your project.

This article is from the March/April/May 2015 issue. For more information on our issues, check out our issues page.
YOUR RECENTLY VIEWED ARTICLES
Free tutorials, expert tips, exclusive partner offers, and more straight to your inbox!