Readers' Gallery: Power of a Raffle Prize
A Lifetime Learner Begins a New Adventure
By:
Kathy Donovan and Elizabeth Henry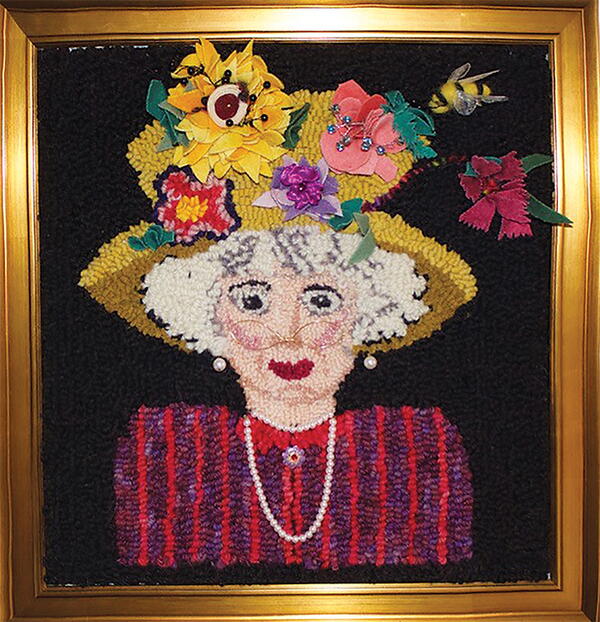 Readers Gallery Power of a Raffle Prize
MOM, YOU NEED TO FIND SOMETHING TO DO!" Andrea said to her mother. Andrea and her siblings were concerned because mom was living alone in the Winchester, Virginia, farmhouse they called home for 60 years. COVID quarantine kept their 83-year-old old mom isolated. Desperate for ideas, Andrea found me on the web and called. "I think my mother would like to hook," she said. "May we come to your farm?"

I suggested they come instead to the Woolen Wonders Rug Exhibit, in the Barns of Rose Hill Theater, located in Berryville. In fall 2020 we held our second Woolen Wonders biannual exhibit. Her mother could see punch, fine cut, and primitive rugs. We had a hands-on demo table for her to try both punch and traditional hooking.

Andrea brought five family members to the exhibit. With COVID precautions in place, they insisted their mother, Florine Sempeles, see it, too. For 30 years, Florine made beautiful crewel tapestries, stained glass, and pottery. Her walls are filled with her framed artwork. She tried hooking, then punching with yarn. She was ready to try something new.

On the way out, Florine purchased a $10 raffle ticket. Angela Jones, owner of Breezy Ridge Rugs, had donated a frame, yarn kit, and Oxford punch, and Checkmate Farm had donated $200 worth of lessons and supplies. In November, Florine called her daughter Andrea and said, "Guess what? We did not win the raffle." But Florine did win the raffle. I just did not call her until the following week. I delivered the prize in January and showed her how to use the Oxford Punch Needle. I left her blank cloth and yarn in case winter prevented my return. I also loaned her copies of RHM to discover pattern ideas. Angela and I planted the seed, and Florine took off designing her own patterns. When we were both vaccinated, I stopped in regularly to check her progress.

I want to encourage other rug hooking communities to arrange rug exhibits. It invites attendees to discover our craft. It can change lives and bring joy, creativity, and happiness to all ages. Our raffle money benefits our nonprofit theater, which grants us their space for our exhibit. Our raffle prize is a gift that keeps on giving. I better check on Florine before winter. Heaven knows what she wants to try next! RHM
YOUR RECENTLY VIEWED ARTICLES
Free tutorials, expert tips, exclusive partner offers, and more straight to your inbox!