Sibyl Osicka Hooks for Animals
Reader's Gallery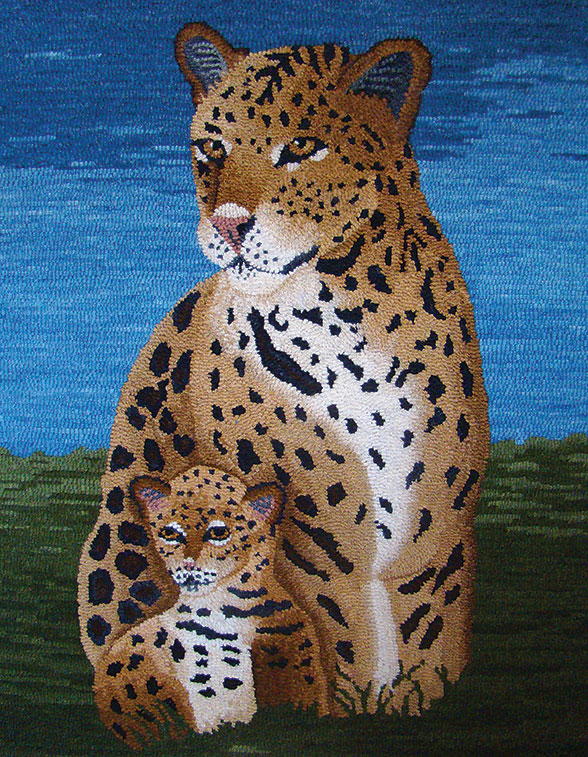 Photography by Sibyl Osicka
Leopard Mom and Baby, 24" x 28", #3-cut wool on rug warp. Designed, hooked, and framed by Sibyl Osicka, Parma, Ohio, 2013. Donated to the Cleveland Zoo.

Sibyl Osicka had just returned from one rug hooking workshop and was packing for another when I asked about her latest hooked donation to the Cleveland Zoo's annual fund-raiser, ZippyZooDoo.

In 2013, she hooked a leopard with her baby, a hyacinth macaw in a tropical setting, a king penguin rug called The Kindergarten, and Spirit of the Moon, a North American face inside a moon with two wolves, an eagle, and a bison. That year was the sixth year Sibyl has donated her art to the Cleveland Zoo.

I asked how her zoo donations began. She said one of the zoo directors asked her why she visited the zoo only once in a while when she and her husband were members of the Cleveland Zoological Society. She explained that she traveled and taught throughout the country and that he could learn more at her website.

Everyone knows a picture is worth a thousand words, so seeing the photos of her work online was all it took. The director showed it to his coworkers and then to the director of ZippyZooDoo, and shortly thereafter the fund-raiser director asked Sibyl to contribute a hand-hooked animal portrait for the next fund-raiser auction (she didn't want any flower pictures).

This article is from the January/February 2014 issue. For more information on our issues, check out our issues page.
YOUR RECENTLY VIEWED ARTICLES
Free tutorials, expert tips, exclusive partner offers, and more straight to your inbox!