Barb Powell: Class of 2023
Updated June 27, 2023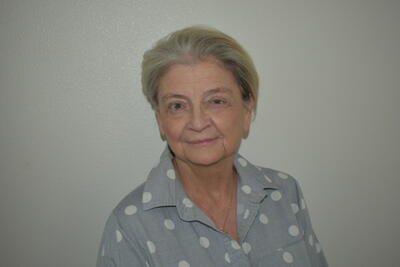 Name: Barb Powell
Location: Redmond, Oregon

Tell us a bit about yourself. What are some of your interests and hobbies?
I live in Central Oregon and love to spend my time outdoors. I am an avid hiker in the summer and get to hike and backpack about 200 miles per year. My second passion is skiing, and the miles add up quickly on the slopes.

How did you get introduced to rug hooking?
Year after year, the local rug hookers displayed the work at the Tillamook County Fair, but it was not until my daughter went to college that I finally picked up the hook.

What was your first project?
I bought a kit of a sheep on Ebay. The local rug hooking group met at the Latimer Quilt Center weekly and they finally got me on the right path to hooking.

Is there one rug that stands out as being particularly memorable?
My rug Stairway to Heaven was on the cover of Celebration 31. I was able to go to Rug Hooking Week at Sauder Village that year and take part in all of the festivities.

Is there a particular style of rugs that you're most interested in hooking?
I like to hook the fine cut rugs and rarely hook above a #4 cut. I have recently discovered that hooking with yarns and other fibers is really fun and satisfying.

What's your favorite part about hooking a rug?
As hard as it is, the planning is probably the most fun. I literally spend months or even a year or two thinking of projects and how they should look in the end.

What's a piece of advice you'd give to a new rug hooker?
Have fun! And hook what you love.

What do you love most about Celebration?
Being able to see what everyone is doing. There are so many new ways to look at rug hooking.


Table of Contents
Gary's Boy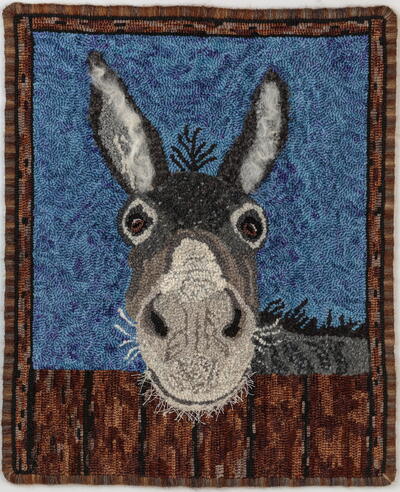 Gary's Boy, 19" x 24", #4-cut wool, blended rabbit fur and wool, yarn, roving, and braided fishing line on monk's cloth.
Designed and hooked by Barb Powell, Redmond, Oregon, 2021.

Meet Gary's Boy, the ultimate "make you smile" rug. I have always said you need to be able to smile while you hook your rug. Don't make it a labor of fretting and stressing.

 
Fire Season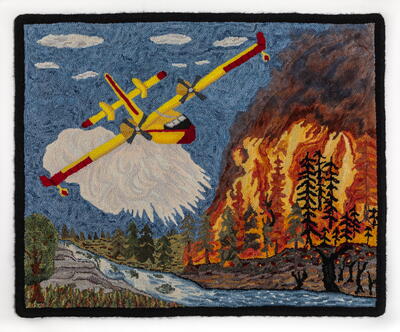 Fire Season, 32" x 26", #3-cut hand-dyed wool on monk's cloth. Designed and hooked by Barb Powell, Redmond, Oregon, 2021.
 
Stairway to Heaven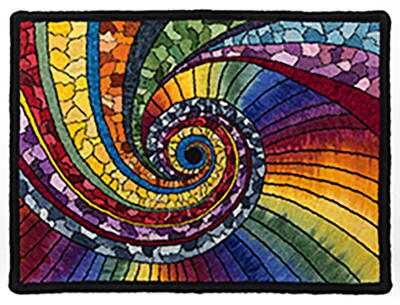 Stairway to Heaven, 22 ½" x 30 ½", #3-, 4-, and 5-cut wool on monk's cloth. Designed and hooked by Barb Powell, Redmond, Oregon, 2020.
 
YOUR RECENTLY VIEWED ARTICLES
Free tutorials, expert tips, exclusive partner offers, and more straight to your inbox!