A Friendship Tree to Make Together
A Pattern for International Punch Needle Rug Hooking Day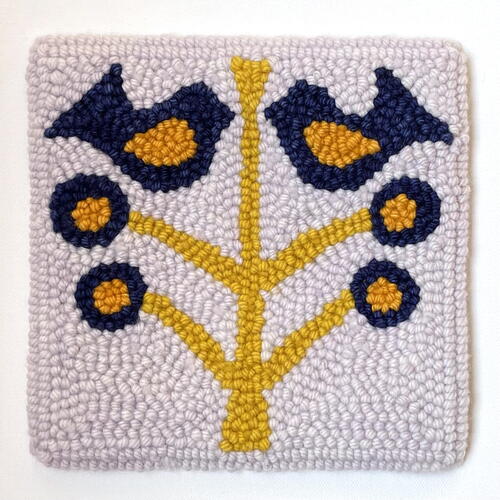 A Friendship Tree to Make Together
When Amy Oxford reached out to me to brainstorm this year's theme for International Punch Needle Rug Hooking Day (IPNRHD), which falls on April 1, we both knew that we wanted something that invoked a feeling of comfort and togetherness. Nothing seemed to bring those concepts together quite so cohesively as the theme of "friendship."
PUNCH NEEDLE RUG HOOKING DAY IS APRIL 1, 2023

Share your project on social media using #IPNRHD. The pattern and directions published here are a free download. You can find them at www.midnightcreative.ca. Kits are also available and include rug yarn and the pattern drawn on 18"x 18" monk's cloth. Kits can be found at www.midnightcreative.ca and ship within Canada and to the US.

 
My life seems to be filled with different branches of friends—school friends, mom friends, book club friends, old friends, close friends, and family friends—but one group of friends that I think many of us share are crafting friends
Crafting, and punch needle rug hooking in particular, has been a point of entry into many friendships with people whom I might not have otherwise met or connected with. Making things together, sharing ideas, and encouraging one another create a strong bond and sense of community. If you are part of a rug hooking or fiber arts guild, and have made friends with makers of different ages, backgrounds, and talents, then you know what I am talking about! 
 
In Calgary, I am a member of the Chinook Guild of Fibre Arts, and it was incredibly apparent how much everyone missed their fiber art friends when women began meeting outside during the pandemic. As soon as outdoor gatherings were permitted, members brought lawn chairs, blankets, thermoses of coffee, and their projects to gather (socially distanced) once again despite cool weather. It is amazing the lengths to which we will go to spend time together with our maker friends. It is often less about the project itself (I myself am not particularly productive at guild gatherings) but more about the camaraderie.

My friend Rebecca Martin, of StoryTeller Wool, and I developed a friendship online when we both discovered our love of punch needle, and then found we had other similarities in our story, such as looking for ways to express ourselves creatively amidst the all-consuming chaos that is motherhood. We have never met in person, and yet we reach out to each other for advice, to share our lives, and see what we are creating now. So often we laugh at one another when we discover that we are both exploring the same motif, or incorporating the same fiber technique in our work, even though we had never discussed it with each other before.

Other friends might not be of this "birds of a feather" variety, yet they bring balance to my life. They are the brights to my neutrals, and the energetic abstracts to my folksy motifs. I am the quiet listener, and they are the warmth that brings me, stretching, out of my shell. 

As much of my work is inspired by my German-Canadian Mennonite heritage and Pennsylvania Dutch motifs, it is no surprise that this year's design became a twist on a Tree of Life pattern. The branches symbolize different branches of our friendships, with the circles being the bounty we reap from them. And of course, no Friendship Tree would be complete without two birds flocking together, perhaps a mirror image, or perhaps balancing one another out.

I punched this 8" x 8" pattern with the #10 Regular Oxford Punch Needle (¼ inch loops) and hand-dyed 4-ply rug wool in complementary colors. I wanted the design to be simple enough for beginners with room for more experienced punch needle rug hookers to incorporate their own techniques.
Think fondly of your birds of feather friends, your friends that bring balance, and any of the other branches of friendship in your life.
HERE ARE SOME OTHER FUN IDEAS TO MAKE THIS PROJECT YOUR OWN:
Make it scrappy: This pattern is perfect for busting your stash and using up smaller bits of yarn, including novelty yarns. 
Flip the foreground for the background: Punch the foreground (tree, birds, and circles) all one color,  and then use multiple colors to create the background. You could switch colors while punching the background concentrically, punch it in rows, or create more organic shapes. Have fun with it!
Reverse it: If you prefer the look of the back, flat stitches, go ahead and showcase that side of your mat instead.
Incorporate other fiber techniques: Instead of punching the circles at the end of each branch, try making quillies, or stitching wool pennies for a fun twist.
Swap with a friend: Have a friend punch part of your pattern and you punch part of theirs. Each person chooses the colors, yarns, punch needle sizes, techniques, and so on of their choice. Then swap! Finish punching the rest of the pattern, and then do a final exchange of your finished friendship mats. 

However you decide to punch, or hook, this little Friendship Tree, I hope you will think fondly of your birds of a feather friends, your friends that bring balance, and any of the other branches of friendship in your life. Or better yet, I hope you and a friend are able to make this year's project together.

RHM
Katie Stackhouse is a graphic designer, fiber artist, and certified Oxford Punch Needle instructor based in Calgary, Alberta. She runs Midnight Creative, an online shop specializing in punch needle rug hooking patterns, kits, and supplies: www. midnightcreative.ca. You can find her on social media @themidnightcreative where she shares her works in progress, punch needle tips, and her ongoing mission to find a little creativity in the between hours.
YOUR RECENTLY VIEWED ARTICLES
Free tutorials, expert tips, exclusive partner offers, and more straight to your inbox!