Alternative Fibers
Using dog hair in your hooking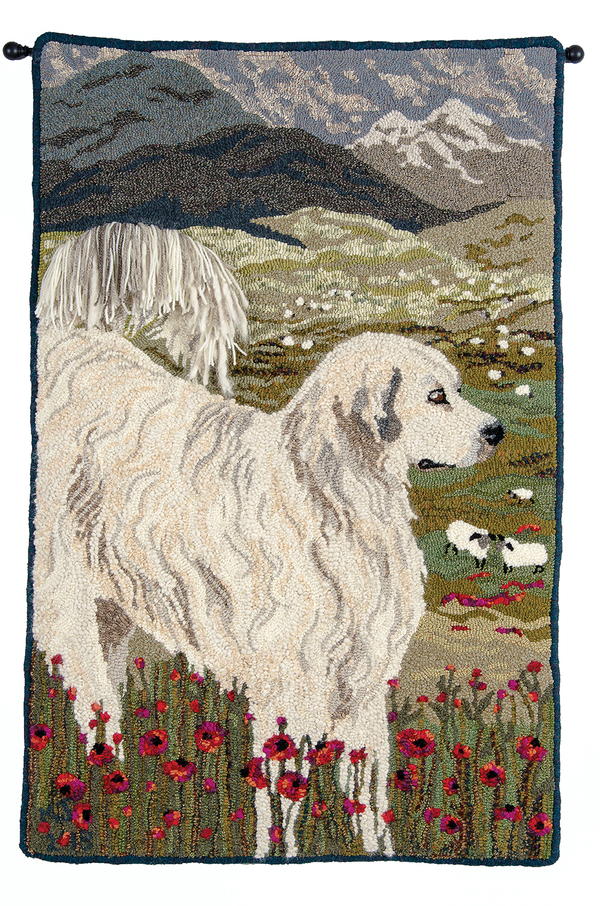 Gabriel, Hooked with His Own Fur, 29" x 45", hand-spun dog fur yarn, wool yarns, acrylic yarn, and #6-cut wool fabrics on primitive weave burlap. Designed and hooked by Mary James, Nouvelle, Quebec, Canada 2018. Robert Gervais Studio, Bathurst, N.B., Canada

The art of hooking (and spinning) with spun dog fur, sheep and goat wool, and the crushed stems of plants is commonly thought to have been brought to eastern North America by European settlers. Settlers from the Scandinavian countries (Viking explorers) are especially known for their long history of fine weaving. In those early settler days, no resource could be wasted and everything had a purpose for human survival.  

In my own rug making, I am always mindful of that timeless connection with our forebears. But over time, the use of alternative fibers in the making of rugs was lost mainly due to the availability of machine-made woolen fabrics that were easy for rugmakers to dye and were durable underfoot.

Our own Great Pyrenees dog "blows" his woolly undercoat every spring. That term is not an exaggeration. The sheer abundance and beauty of it started me thinking about its usefulness as a resource. I just hated to throw it into the trash!

But I wondered if it would have a doggy odor or if it would become musty over time. The only way to find an answer to those questions was to save the dog wool in a paper bag in a dry closet, keep it fluffy, and wait. Two bags full were saved for almost an entire year. Every now and again I checked the wool for mustiness, mold, or awful smellies and found none. This was looking good!
YOUR RECENTLY VIEWED ARTICLES
Free tutorials, expert tips, exclusive partner offers, and more straight to your inbox!