The 25th Anniversary Rug: The Final Chapter
Small Cumberland Crewel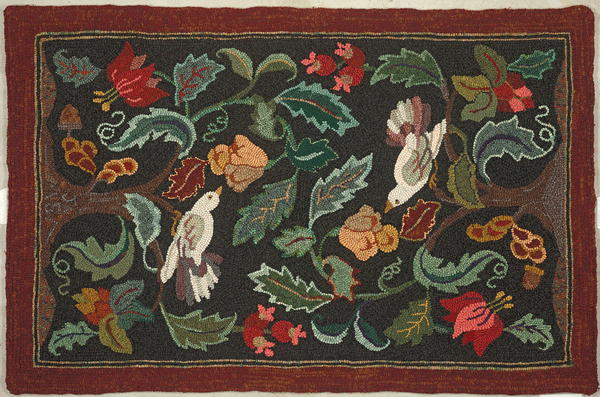 Small Cumberland Crewel, #5-, 6-, and 7-cut wool on linen. Designed by Joan Moshimer and hooked by Debra Smith, Landisburg, Pennsylvania, 2013. Pattern available from W. Cusing: www.wcushing.com.

Well, I made it. As you can see from the photo, the rug is completed and ready for its new home. It has been an interesting process, and I can tell you that I learned a lot over the last several months.

What happened to that rope border?

As you can also see in the photo, the rope border underwent a major renovation; in fact, the rope border disappeared altogether. While I had high hopes for that border, I finally had to admit that I needed to change my plans. Here is what happened:

The size cut I was using in the rest of the rug was too large to use in the border as it was drawn. I suspect that when this rug was designed, the intention was for the hooking to be done in finer cuts (#2, 3, and 4) instead of the medium cuts I was using (#5, 6, and 7). My medium strips were too large to cram into the small sections of rope and still have any kind of successful shading. If the rope sections had been larger, I could have pulled off a faux shading, a suggested shading in the primitive style. However, as drawn on this linen, the rope was too delicate for my strips. Lesson learned here: a design may dictate the size strips to use. There is nothing to be gained by forcing wide strips into areas begging for fine strips.

That was fine with me, though, because I decided that I didn't like the rope element anyway. This is not sour grapes because I couldn't hook a beautiful rope. Rather, it is an honest assessment of my personal taste. Luckily, the publisher (the recipient of this rug) agreed with me. We both thought that the center of the rug was so busy and colorful that the rope border detracted from the interior design. With the rope, there would be too much motion, too much color, too much everything. So, the hunt was on for an appropriate border.

This article is from the March/April/May 2014 issue. For more information on our issues, check out our issues page.
 
YOUR RECENTLY VIEWED ARTICLES
Free tutorials, expert tips, exclusive partner offers, and more straight to your inbox!