Ann Winterling and the Art of Rug Hooking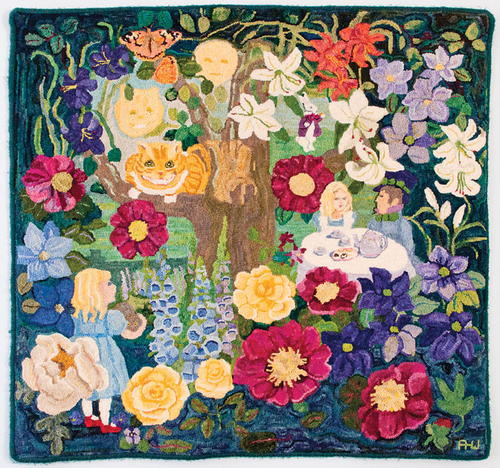 Tea Time in the Garden, 42" x 41", #5- and 6-cut wool on linen. Designed and hooked by Ann Winterling, Concord, New Hampshire, 2001.

I want my work to express
what I have experienced and
to be of the 20th and 21st century.
I want to be able to express
my spirit, my love of life and family.

—Ann Winterling, Artist Statement, League of New Hampshire Craftsmen

Rare is the creative project that doesn't tempt an artist at some point to back off and leave well enough alone. However, when looking at the scrupulously rich details in almost any hooking by Ann Winterling, it's plain to see that she's not one to back off and settle for well enough.

While some hookers are drawn to design and others to color, Ann says her main interest is in telling a story. The New Hampshire artist explains, "I want people to look at my rugs and know how I feel about my subject."

The meaning she attaches to subjects does not take to shortcuts. Ann's meticulously crafted fiber stories, full of color and detail, compel viewers to linger awhile, to participate in the experience that inspired her, and to make of it their own interpretation.

This article is from the September/October 2012 issue. For more information on our issues, check out our issues page.

YOUR RECENTLY VIEWED ARTICLES
Free tutorials, expert tips, exclusive partner offers, and more straight to your inbox!