Artful Color: Color Planning with Themes
Create a Strong Color Story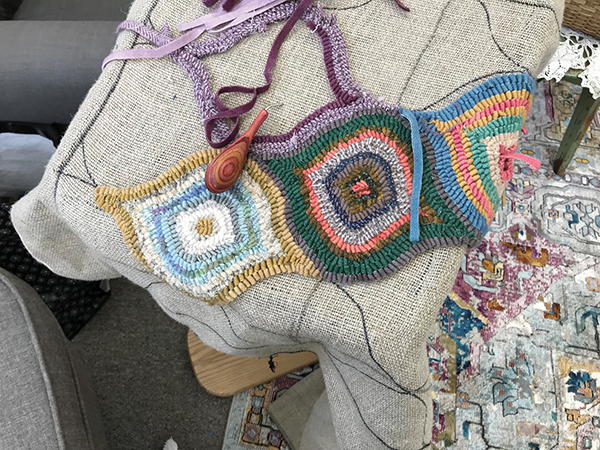 January Journal Rug—Play Day, 17" x 51", wool on linen. Designed and hooked by Wanda Kerr, Wiarton, Ontario, 2019.

Expanding on Themes: This is a rug I'm making called Playtime. The theme is my childhood memories. I'm delving back to that time before hormones when I felt full of self, content, and right-brain happy. I use colors directly from those memories to paint in each ogee shape. Colors are closely linked to feelings; we can tell this by our language: seeing red, feeling blue. And colors invoke wonderful feelings. Be brave and embrace a color that repels you. Notice what colors present themselves to you repeatedly--they want you to love them! What are you newly attracted to? Embrace that.

Does color planning your projects make you feel like tearing your hair out? Do you start out full of hope only to becoming exhausted and feeling like running away? Do things go wrong no matter how diligent you are? Do you end up making something that doesn't look a thing like you dreamed?

You are not alone. This is why so many of us want to replicate others' successful rugs. The colors we can see are better than the elusive ones we dream!

We can seek color advice and come away no wiser than when we started and with the color taste of someone else in our mouths. We are told to look at opposites, triangulations around the color wheel—instead we get color strangulation.

I want you to relax. You might be sliding down the slippery slope of despair, but I'm here to throw you a stout rope. There is an easy way to get a great color plan that will guarantee you'll have a beautiful rug. Grab hold.
YOUR RECENTLY VIEWED ARTICLES
Free tutorials, expert tips, exclusive partner offers, and more straight to your inbox!