Creating Color Samples for Dye Formulas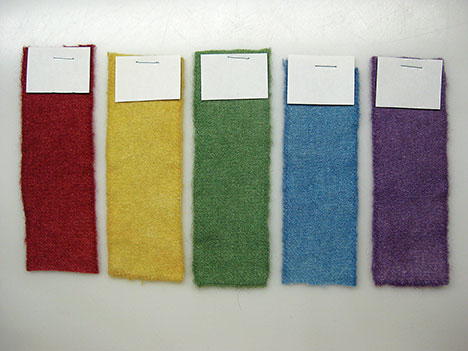 Color Samples

Do you have books of dye formulas and no dyed samples to show what the formulas would look like? Do you have a set of dyed samples but would like to know what the formulas would actually look like when used in your own kitchen using your own water? Would you like to create your own dye formulas and produce dyed samples for them? This article describes the methods I use to accomplish these goals.

The obvious method of producing a sample of wool dyed with a specific formula is to mix the formula as directed by the author of the dye book and dye the total amount of wool recommended. The problem with this method is that if you don't like the results, you are left with a piece of wool that you have no immediate use for and will likely have to over dye at a later date. Many dye formulas are for 1/2 yard of wool, and you can go through a lot of wool just testing formulas. You could use a few drops of the formula solution to dye a small piece of wool. This would save wool, but you are left with concentrated dye, usually a cup, which you may not want to store for use at a later date or waste by throwing it out.

This article is from the March/April/May 2013 issue. For more information on our issues, check out our issues page.
YOUR RECENTLY VIEWED ARTICLES
Free tutorials, expert tips, exclusive partner offers, and more straight to your inbox!