Creative Confines and Loopholes
Working with repurposed wool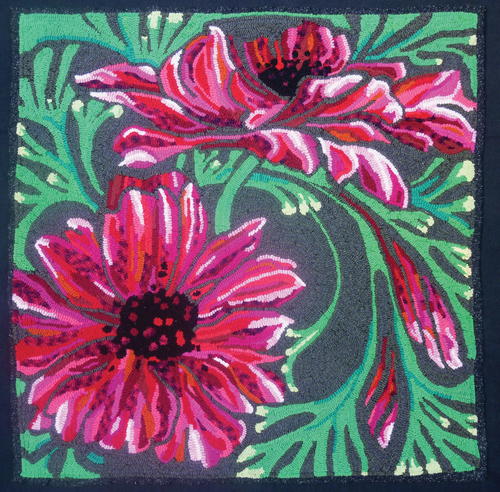 Photography by Nadine Flagel
Antidote, 32 1⁄2" x 32 1⁄2", #8-cut recycled wool on linen. Adapted from a design by Rene Beauclair and hooked by Nadine Flagel, Vancouver, British Columbia, Canada, 2007. One piece of wool came from another rug maker, and the rest is reclaimed. The leaves have light-colored ends (like new growth or buds), and they also have darker stems in some places. That meant three wools instead of one. The flowers include plaids and blue reds with hot pinks and warm pinks. (It felt good to find a hot pink wool blazer from 1986 with the biggest shoulder pads I had ever seen and remove it from circulation!) 

You can tell a lot about a person by how they play board games. Some people learn them as they go, making up rules on the fly. Some get moving quickly but never
really read the fine print. I scrutinize the rules and probe them for weakness through play, figuring out where the loopholes are. I don't just want to exploit those loopholes (although I do like to win). Rather, I want to rewrite the limits, identify all possible contingencies. It is precisely the confine or the limit that is the challenge for me.
 
Rug hooking is like playing board games, too: you can play within quite a few external limits. The most important limit of my rug hooking practice is that the colors, textures, and quantities of woven fabrics are dictated by what I have in my stash and what I can find at thrift shops.

I love the thrill of the hunt. I only use woven fabrics, with at least 80% wool content for their durability. Color limits are alleviated by marrying colors in the dye pot and raiding stashes of other hooking artists. The question, "Will I have enough wool to finish this rug?" is the thrilling and suspenseful question any hooking artist has lived with at least once. If you are a rugmaker who chooses to work with reclaimed wool, then you work with that question on every project with every wool. 

Nadine Flagel hooks rugs and teaches English literature in Vancouver, BC. Her mission is "making art out of making do." She shares a passion for sustainable rug hooking through education, posting on Instagram (check out @pretextstudio), and selling coordinated repurposed wool strips and stylish Art Nouveau patterns at pretextstudio.com.

This article is from the March/April/May 2017 issue. For more information on our issues, check out our issues page.
YOUR RECENTLY VIEWED ARTICLES
Free tutorials, expert tips, exclusive partner offers, and more straight to your inbox!