Fairy Tales
By:
Katy Powell/Photography by Owen Carey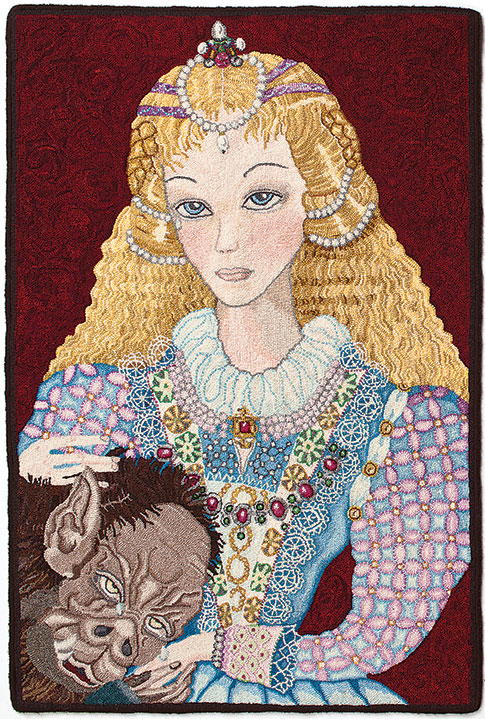 Fairy Tales
Beauty & the Beast, 30" x 40", #3-cut wool on monk's cloth. Adapted with permission from an illustration by Adrienne Segur and hooked by Katy Powell, Portland, Oregon, 2010.

Once upon a time, during the 1970s and '80s, I helped my father run a  punch hooking business called Rumpelstiltskin's (Hmmm . . . maybe that's why I love the fairy tale theme!) and I punched hundreds of rugs and wall hangings for shop demos, catalogs, cover photos, and my own personal enjoyment. I tried punch hooking a few fairy tale patterns into rugs, but I wasn't quite satisfied with the results. I couldn't get the yarn to express the beauty and depth that the illustrators had captured. Luckily, I knew about traditional hooking from my father's ads in Rug Hooking magazine, so I switched types of hooking so I could better convey the emotion I felt when looking at these famous illustrations.

Years later, I was browsing through some greeting cards when Jesse Wilcox Smith's illustration of Little Red Riding Hood practically jumped out at me. The image, with the large wolf and a foreboding darkness surrounding the girl's luminous, innocent face, spoke to something deep inside me. I bought the card and stored it away.

In 2012, I attended my first traditional rug hooking camp at Friends by the Sea in Rockaway, Oregon. I was a rookie and soon realized it would take me a while to acquire the skill and knowledge to do justice to Little Red Riding Hood.

After a few years of camp and hook-ins, our Portland group brought Elizabeth Black to town for a special workshop. Here was the teacher to help me get started on my wolf, whether I was ready or not.

This article is from the March/April/May 2015 issue. For more information on our issues, check out our issues page.
YOUR RECENTLY VIEWED ARTICLES
Free tutorials, expert tips, exclusive partner offers, and more straight to your inbox!