From Clay to Fiber
Hooking the world in 3D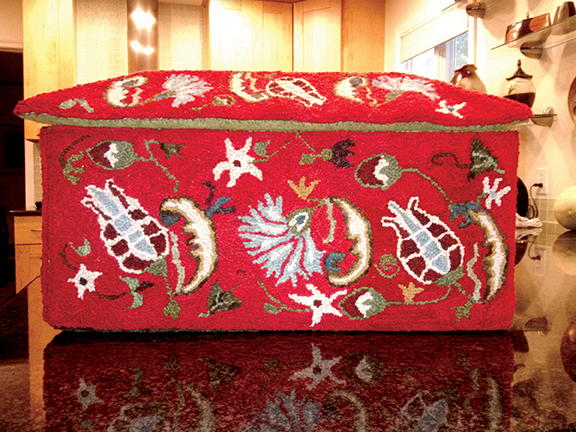 Photography by Susan Wertheimer David
Sultan's Garden (Mira's box), 18" wide x 6" tall x 6" deep; lid: 20" wide x 2" tall x 10" deep. 2012.

It is a sad day when an injury prevents someone from enjoying the form of art they've practiced for decades. In Susan Wertheimer David's case, a broken wrist in 2012 meant she could no longer throw the quantity of forms she'd made as a professional potter.

But in what proves to have been fortuitous timing, she had begun to study rug hooking in late 2010. On vacation a few years earlier, she had met rug-hooking artist Rosemary Levin in Corea, Maine. Levin's sense of color and design excited her, and she thought she could give hooking a try.

David searched for a rug hooking teacher near where she lived in Maryland and found Roslyn Logsdon's class at Montpelier Arts Center in nearby Laurel. David liked Logsdon's unique style and sense of color, though they differed from Levin's. The work of both Logsdon and Levin pointed to the depth of artistic expression that's possible with hooking—something that impressed David. She dove in.

But she had an aesthetic need for enclosed spaces and wanted to create three-dimensional forms with hooking as the medium. Logsdon suggested a flat design to begin with so that David could gain experience hooking before trying a three-dimensional piece. That design was a simple bamboo stalk and included blocks of color she would work with in future projects.

Leigh Glenn, a longtime writer/editor based in Annapolis, Maryland, enjoys hooking workshops with Roslyn Logsdon. She also wrote the profile of Carol Koerner in this issue of RHM.

This article is from the January/February 2017 issue. For more information on our issues, check out our issues page.
YOUR RECENTLY VIEWED ARTICLES
Free tutorials, expert tips, exclusive partner offers, and more straight to your inbox!